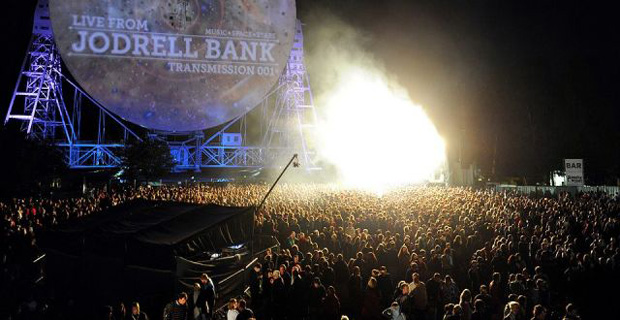 As 2012's festival season fast approaches we here at Northern Noise begin scouring the interweb for the most exciting events that are not to be missed. Jodrell Bank Live is undoubtably one such event. Nestled in the heart of Cheshire, this unique outdoor event will see a handful of top-notch acts perform in front of the North's own Lovell Telescope.  Headlining this year we have Manchester powerhouse Elbow topping the bill on June 23rd with musical icon Paul Weller performing the following evening with support from Blur guitarist Graham Coxon.
These are just the first of many soon-to-be-announced acts who'll head down to Jodrell Bank to perform in this aesthetically dramatic venue which promises to be a feast for the eyes as well as the ears. In addition to treating fans to some of their favoirite music, each act will utilize visual effects and project images onto the site's colossal telescope, as if the astounding brilliance of their natural surroundings just weren't enough. What's more, each ticket allows gig-goers to partake in a number of daytime workshops, experiments and learning events taking place before the music even starts. You'll also get free access to Jodrell bank's Discovery centre for a chance to learn more about the exciting research taking place at the HQ of one of the world's largest and most powerful radio telescopes.
Other artists confirmed to play at this year's event include self-professed 'Seaside psychedelica' man Baxter Dury and power trio Little Barrie, a band who have worked with some of the UK's biggest acts including Primal Scream, The Chemical Brothers and even this year's headliner Paul Weller. Tickets for each day are priced at £35 and can be bought here, more info can be found below.
Be sure to 'Like' us on Facebook and follow us on Twitter to keep up to date on all the latest Northern Music News!
Words by Simon Bland.