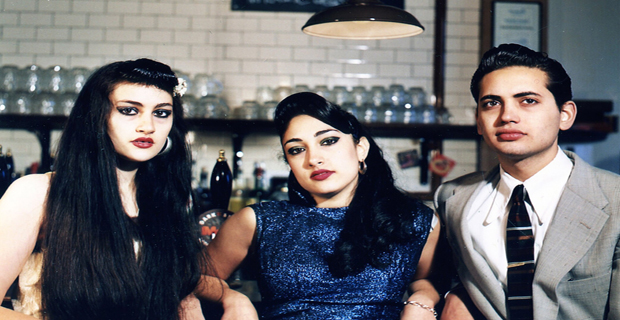 The Durham siblings or, as they're better known, Kitty Daisy & Lewis are living proof that good things come in threes.  Despite being barely old enough to legally drink, this London trio have carved out quite a name for themselves in all the right circles thanks to their distinctive style – both visually and musically. By resurrecting a long dormant but still very much alive kitchen diner rock and splicing it with tried and tested jazz, jump blues sounds they've redefined the term 'retro-cool'.
Their self-titled debut – a folksy throwback album with just enough toe-tapping spirit to keep you humming its tracks long after hearing it, quickly earned them a throng of big name fans.  Among the star studded names queuing up to show their appreciation were Amy Winehouse, Ewan McGregor and Chris Martin who was so impressed he invited the youthful trio to open for Coldplay on their colossal arena tour. Having performed on stage since they were knee high to a double bass, the band welcomed a chance to jump in to the deep end.  And it paid off.  Pretty soon they had swapped intimate clubs for 25,000 strong crowds.
Like their debut, the band's latest record Smoking In Heaven was cut completely on analogue at their home studio – a recording space meticulously created by Lewis, the bands middle child.  The vintage equipment chosen to furnish this room was heavily influenced by his extensive record collection, guaranteeing a long forgotten full-bodied sound.
Smoking In Heaven is also their first collection of original material, an assembly of tracks that build on the already concrete-strong foundation laid down with their previous album.  I'm Going Back has that old familiar swing beat making it impossible to listen to sitting still. Don't Make A Fool Out Of Me, with its jazz drums and bluesy vocals, sounds like something taken directly from Jack White's wildest dreams. While I'm So Sorry adds some Ska into the mix thanks to legendary trumpet player Eddie 'Tan Tan' Thornton who can now add this London trio to his CV, right under Jimi Hendrix and The Rolling Stones.
If you're in Manchester this evening, you really have no excuse not to get yourself down to The Ruby Lounge.  To use a retro term to describe a refreshingly retro band, it's the hottest ticket in town.
Words by Simon Bland.