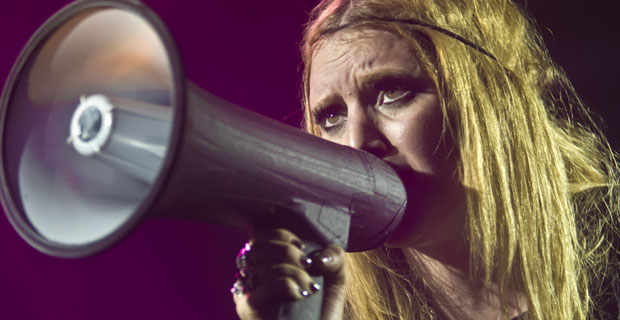 Northern Noise will be interviewing Lykke Li ahead of her Manchester Academy 2 date, as well as bringing you live twitter updates, a photo gallery, and extensive review from the last night of her UK tour…
Lykke Li turned heads when returning after a long absence with the opening single, Get Some. "I'm your prostitute, you goin get some," she sings with a new found self-assertion. This was far from being a delve into Christina Aguilera's Dirty territory though, with long time producer Bjorn Yttling providing a pounding backdrop for an exploration of empowerment and obedience.
Wonded Rhymes, an embittered expression of relationship failure, was the title chosen for the new album which followed 2008's Youth Novels. The record delves into similar depths as her debut, with Lykke Li once again finding herself disillusioned, yet the youthfully naive expressions of a love previously longed for are replaced by this much more articulate investigation into all elements of attraction.
At times Lykke Li plays the submissive role, Unrequited Love and Sadness Is A Blessing are wallowing outbursts of self pity, but in other moments a defiant heroine emerges, determined to come out on top in the power struggle. Second single, I Follow Rivers, is an examination of this tug of war and its dark, destructive effects. The track is out now, as is Wounded Rhymes
Words: Simon Butcher
Tour Dates
April
12 – Trinity, Bristol
14 – Shepherd's Bush Empire, London
15 – Cockpit, Leeds
16 – Tripod, Dublin
18 – Arches, Glasgow
19 – Academy 2, Manchester