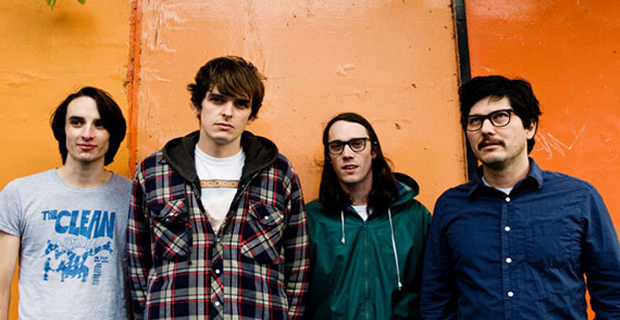 There are a handful of bands at the moment that are putting a marker down for Manchester. Nestled safely within this handful sit two acts, both formed in the city, who share the D.I.Y ethos, attention to raw sound, plus the ear for a catchy hook – which all mix to make two groups with huge potential.
Adding to the exciting emergence of talent in the north are Milk Maid – the  newish project of Martin Cohen – previously of fuzzy grunge types, Nine Black Alps. The other band, creating a very reasonable stir, go by the name of Mazes, a four-piece formed in 2009, whose debut, A Thousand Heys, has set an exciting benchmark from which to grow. Both will be taking to The Kings Arms in Salford.
It's refreshing to note that in amongst the deluge of nu-rave, electro-pop, and chillwave of recent years, there are still bands who believe the warmth and intimacy of the humble guitar cannot be replaced by synths, Pro Tools or GarageBand. Indeed, it seems the traditional line up of guitar, bass and drums is making something of a comeback. Certain labels, such as One Little Indian and Fatcat, have been at the forefront of this rough around the edges garage rock ethos.
Milk Maid 'Dead Wrong' FatCat Single A Side (7FAT103) by FatCat Records
Anyone lucky enough to venture to the Kings Arms on 4th October will witness two bands that clearly care about live energy and the quality of sound they a producing.  Mazes have an American punk, stick it to the man, attitude that oozes onto the watching crowd, whilst Milk Maid bring timeless distorted melodies with the catchiest pop hooks at their core.
Both acts are about as intertwined as any two bands could be.  Mazes lead singer, Jack Cooper, signed Milk Maid to his own record label, Suffering Jukebox, and it was here that the relationship between the two groups sharing a love of lo-fi haziness began.
Now, both are putting out music under the aforementioned FatCat Records and are strong additions to the label.  They have performed on the same bill on several occasions and have picked up a loyal following along the way due to their intense live shows.  They are testament that hard work and the DIY attitude can work with superb results. Milk Maid Frontman, Cohen, wrote and recorded everything in his very own flat, whilst Mazes make their tracks very quickly straight onto tape in a quest for spontaneity.  It may not be the most glamorous way to go about things but it is certainly effective.
Words: Ashley Clements
httpv://www.youtube.com/watch?v=K5G4Z8fzsTE
Northern Tour Dates
Mon 3 Oct
Nation Of Shopkeepers, Leeds.

Tues 4 Oct
The Kings Arms, Manchester.
Fri 7 Oct
Dog & Parrot, Newcastle.
Sat 8 Oct
Library, Lancaster.