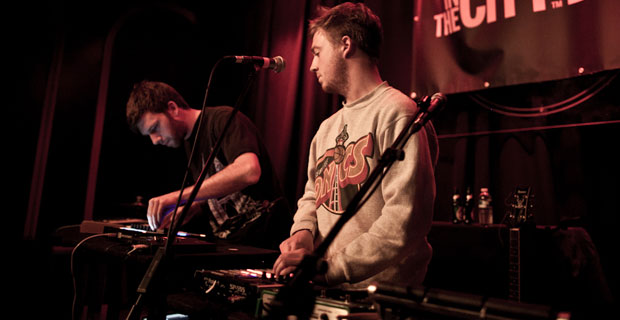 It's something your grandad would always moan about as you were walking out the door to go see your favourite electronic act as a teenager. 'How can you listen to that? It's all bleeps and blips, everything sounds the same and it's all done on a computer. It's not real music and it's not live!'
If that doesn't sound like your grandad specifically, trust me, he said it while he was trying to fix his VHS player, I heard him. But someone should say hey, calm down grandad, stop using that DVD as a coaster and listen to this. Electronic music has been evolving at such a fast pace in recent years that you would have to be a fool to write it off fully, if not see it as the very forefront of musical innovation.
Mount Kimbie – Field (from Crooks & Lovers) by Hotflush
Advances in equipment are changing the way music can be 'played' completely. While albums are recorded using electronic software (that goes for pretty much all albums these days grandad) midi controllers, Kaos pads, drum machines, samplers, and synthesisers, are changing the way this music is visually performed and hence perceived by an audience.
With these technological improvements new scenes have developed. Already in the early noughties dubstep has brought the snarling anarchic attitude Johnny Rotton conveyed to a generation and given it to today's youth via an aggressive bass wobble. But now with the scene supposedly going commercial there's a case to argue that we're already entering a post-dubstep era.
By now I imagine that anybody over the age of 40 has stopped reading, but this is where Mount Kimbie come in. Their ability to blend warm R&B samples with futuristic glitches and choppy drum samples is truly special. You won't find many comparables to this sound. Those familiar with James Blake will recognise similarites with the sparse atmosphere he creates, but theirs is a more fragmented experimental sound.
After releasing two highly acclaimed EP's, Crooks & Lovers, a full length debut, further showcased their skill. The use of reverb, guitar, vocal samples, and midi keys, to create real ambient mood music, is unparalelled. Go and see them play live at the Deaf Institute on Friday, bring your Grandad, it'll blow his electronic hearing-aid to pieces!
Words: Simon Butcher
Watch the second and third part of this live set from Mount Kimbie by clicking on the highlighted words.
Other News:
On Repeat: Dutch Uncles – Cadenza
Delta Maid to play Band On The Wall
Unsigned – No*Tokyo