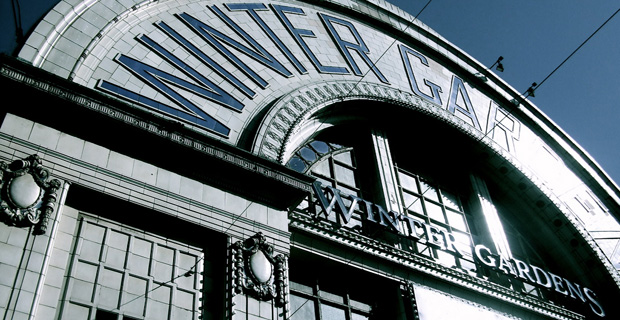 Blackpool's iconic Winter Gardens will play host to a brand new two-day festival this December. One of These Days is an event orchestrated by some of the biggest festival promoters working today including DFA Records, The Warehouse Project, Field Day, Melt!, Eden Sessions, Now Wave, Kendal Calling, Oya Festival, Electric Elephant and more. Each well known name will be assigned the duty of curating the proceedings in one of the Winter Gardens' many ornate rooms and promises to showcase the best in indie, alternative, rock and electronic arts while including hand-picked performances from some of the best up-and-coming acts.
This 'festival of festivals' aims to transport the vibe of each event into the ornate rooms of Blackpool most historic building. One of These Days' promoter Ruth Daniel had this to say about the event: "Our vision is to have one site where each space within it is filled by a micro-version of each festival, not just musically but visually – capturing the essence of each festival. We aimed high and asked the festivals we love to come to Blackpool. They said yes."
With one major European festival rumored to be announcing their involvement soon, of the already confirmed names, one of the biggest highlights so far is the scheduled appearance of Glastonbury. One of These Days will see Glasto's Cubehenge light installation and Dance Village appear within the walls of the Winter Gardens. In total, 150 acts are due to play this two-day Northern event with many more attractions, including DJs, interactive art, film installations and even a Winter market, scheduled to make an appearance. With musical acts set to be announced in the coming months, One Of These Days looks like a step in the right direction for this seaside town.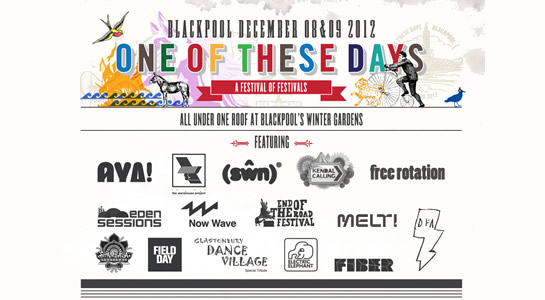 More info on One of These Days Festival 2012 can be found here.
Earlybird tickets for One Of These Days are priced at £59 while individual day tickets are priced at £44.50 each. You can check availability by clicking here.
Words by Simon Bland. (@Sitweetstoo)
Be sure to 'like' us on Facebook and follow us on Twitter to keep up to date with all the latest Northern music news!