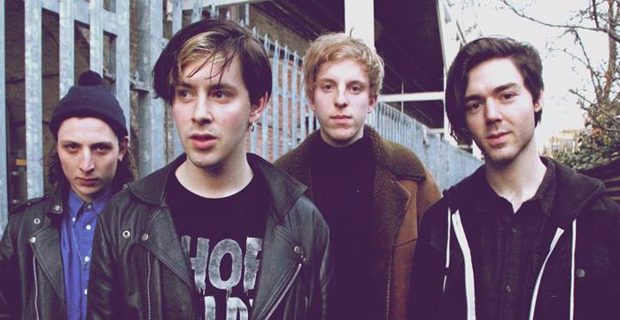 Look out London, movie over Manchester, it seems like Birmingham's the new birthplace of 'that dead good new indie band'. Of course, this wouldn't be the first time we've experienced the city's musical offerings first hand. Back in May we got lost in the dreamy daze of Jaws (and plan to do the same later this month when then make their Northern Noise Live return) and Brummy bands like Swim Deep and Victories at Sea have been stuck firmly on our new music radars like a baked bean stain on a brand new tee shirt. It goes without saying then the prospect of the city's most promising act, Peace, playing The Soup Kitchen on October 24th got us more excited than a hyperactive kid with a belly full of Skittles.
And like a hyperactive kid with a belly full of Skittles, Peace seem to be moving at an incredible rate. Having formed in late 2011, the quartet have since supported the likes of Tame Impala, Mystery Jets, The Vaccines and even accompanied Manic Street Preachers on their recent European tour. But what about the music? Surely there must be some ace tracks behind this speedy rise? Well, yeah, there is.
Having befriended Radio 1 with their debut single Follow Baby, their loose and liquid EP Delicious quickly had the NME and Guardian Music wanting to be on their ever growing list of BFFs. Like the EP's cover – a bright red watermelon cut into a peace symbol – the finished product is something you can really sink your teeth into. Opener Ocean's Eye presents the brooding, dark side of surf rock while the disc's most alluring track Bloodshake is a refreshing hit of jaunty, jangly indie with a twist of Caribbean bongo beats topping things off. California Daze slows things down for a spot of tender lovelorn reflection before the bongos make a quick return for the EP's mammoth 10 minute closer, a moody cover of Binary Finary's 1998 (Delicious). This epic cover paints a smoky scene with some hazy bass riffs and a creepy vibe that slowly rises to a state of controlled chaos.
Beyond iTunes, Peace have made just as big of a splash in the real world too. One London gig saw them finish things off with an impromptu fireworks show, another saw them paint a giant peace logo all over the venue walls and a show in Leeds ended with a fight with a fan over some cider. Classy. If these tall tales weren't enough to get you straight onto Seetickets, then here's one last reason to head to the The Soup Kitchen this October: rumour has it that Radiohead's Jonny Greenwood once swapped a pair of his cargo pants for a copy of their demo. If their music is good enough to convince Radiohead's guitar man to go pantless then gosh darn it, it's good enough for us. And presumably you.
Full UK tour dates:
20-Oct-12OxfordThe Bullingdon
21-Oct-12CardiffSWN Festival
22-Oct-12Nottingham Rescue Rooms
24-Oct-12Manchester Soup Kitchen
25-Oct-12Glasgow The Hug & Pint
26-Oct-12Edinburgh Sneaky Pete's
27-Oct-12LeedsNation Of Shopkeepers
29-Oct-12Bristol Louisiana
30-Oct-12London Lexington
31-Oct-12Birmingham Rainbow
21-Nov-12Stoke Sugarmill
22-Nov-12Cambridge Portland Arms
23-Nov-12Hull Fruit
24-Nov-12Leicester Scholar
26-Nov-12York Fibbers
27-Nov-12Liverpool Kazmer
28-Nov-12Dundee Doghouse
29-Nov-12Aberdeen Tunnels
30-Nov-12Newcastle Head Of Steam
04-Dec-12Sheffield Harley
05-Dec-12Norwich Arts Centre
06-Dec-12Southampton Joiners
07-Dec-12Brighton Green Door
Words by Simon Bland. (@SiTweetsToo)
Be sure to 'Like' us on Facebook and follow us on Twitter to keep up to date on all the latest Northern music news!