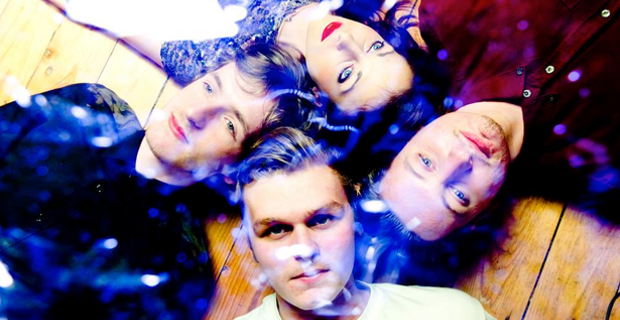 We're incredibly excited to be putting on Post War Glamour Girls, The Louche, and OtherPeoplesLives (yes it's typed like that) in what is set to be one of our best line-ups this year. Anyone who caught them supporting PINS on tour this year can surely vouch for their brilliance. Fans of Nick Cave and The National will love this one…
TICKETS AVAILABLE HERE
In the last 12 months Post War Glamour Girls have built up a formidable reputation within Leeds' ever creative music scene.  Timeless in their approach, they spit desolate, often surreal tales of dubious morality over frenzied literate rock and roll foundations.  This singular vision and a magnetic stage presence saw the band chosen to open the NME/Radio 1 Stage at Reading and Leeds festivals 2012.
The band came ranting and raving to life at the beginning of 2011, with unhinged performances at a series of house parties and tiny venues. Tense builds, feverish eruptions and lucid, cold blooded breakdowns became their currency, lead into battle by James Smith's sharp turn of phrase, berating the ways of the world in his withered baritone croon, before erupting into a splintering roar.  Embracing their adopted city's strong DIY ethos, a sold out 7" single 'Ode To Harry Dean/ Spitting Pearls' was followed by an EP 'Tragic loss; he had such a lovely house'.  A cohesive artful aesthetic was becoming evident in their output, clearly indebted to the late 70s and early 80s when the term 'indie' meant something.  Following the release of the EP, the band performed at Reading and Leeds festivals, had a main stage slot at Beacons Festival as well as a series of venue capacity shows at inner city festivals such as Live at Leeds and Long Division.  Pitched somewhere between The Birthday Party if they'd hailed from England's industrial North and the Smiths if their dissatisfaction had boiled over, Post War Glamour Girls are busy creating a world for themselves.  Their energy and conviction marking them out as a band people can believe in.
The first cut from their debut album 'Pink Fur' was the double A side single 'Jazz Funerals' released in May as a limited 7" vinyl, it was backed with an exclusive cover of Robert Palmer's 'Johnny and Mary'. Capturing a young, fiercely intelligent band in their ugly element and showcasing their newfound confidence on record. It saw the band support ILIKETRAINS on a European tour, followed by a UK headline tour which culminated in a packed out hometown show at the 800 capacity Leeds University Stylus as part of the LIVE AT LEEDS festival. After a summer of festivals, the band return to the live circuit to promote the release of the album's second single 'LIGHT BULB' on the 21st October 2013. The single finds the band tapping further into the murky groove first witnessed on 'Jazz Funerals' and is accompanied by an animated music video designed and created by Dundee based artist Ivan Smith.
The album itself was recorded at break neck speed in Greenmount Studios by Lee Smith and Jamie Lockhart whose credits include the Cribs and Forward Russia and is due Winter 2014.