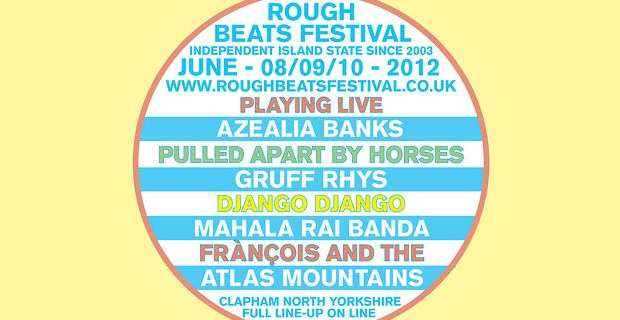 Rough Beats is a small festival based in the Yorkshire Dales which runs from 1pm Friday 8th, until 11pm Sunday 10th June. It may be small in size, but when it comes to music, atmosphere and value for money it's a 6ft 6 Navy Seal fighting the war on terror with fun.
Starting out as a birthday party for a group of friends, it's now in it's 9th consecutive year and has grown from a capacity of 100 to an  astonishing 3000. This year it is boasting a rather impressive line-up with headliners being the immutable force of breakthrough sensation Azealia Banks, psychodelicious Gruff Rhys and the mighty Pulled Apart By Horses.
One of our writers has been going every year and can vouch that no other festival will give you quite the same experience as this – and certainly not for the price! It's a lovely combination of intimate and awesome, with the line-up providing us with the best in world renowned and locally championed artists, comedy, cinema and theatre.
Making a return to headline on Friday, Leeds' own Pulled Apart By Horses will be getting the crowd thrashing to tracks off their second album "Tough Love" and no doubt causing involuntary jerking head movements all the way back to the campsite.
All the way from NYC electro urban goddess Azealia Banks (of '212' fame) will be headlining the main stage on Saturday night, with what promises to be a storming performance of material from her eagerly awaited, cool and controversial forthcoming album "Broke With Expensive Taste".
On the Sunday, Gruff Rhys of Super Furry Animals notoriety will be closing the festival with two decades of mind-blowing psychedelic musicality. Drawing from his solo album "Hotel Shampoo" and showcasing his documentary "Separado!" at the new Rough Beats Cinema, Gruff is giving us twice the fun.
Other acts include notoriously hard to pigeon hole, art-pop four pieeice Django Django, Ded Rabbit, Underground Railroad, Heartships, Hope and Social, Nathalie McCool, Real Fur, Dim, and Craig Charles' incredible Funk and Soul show.
There are also international delights in the form of Romanian super group Mahala Rai Banda and Gaelic sensations Le KCC Orchestra and Francois and The Atlas Mountains.
Aside from the music, the festival itself is intimate and friendly with plenty to keep you entertained.  There is a cocktail bar, traditional ale pub, gourmet food and the now famous 'Big Red Bus' stage. For those of whom the party never ends, you can spend your evenings dancing to curators Stylus and Tropical Fruit Brothers.
This is what happened last year:
Weekend tickets cost £65 (includes camping) and day tickets are £30 (includes camping up to 10am the next day) and are available from our very own tickets page. Click here for tickets!
Here at Northern Noise we'll be giving you all the news, interviews and previews of the festival. As well as the chance to win a pair of tickets for yourself very soon!
Check out the Rough Beats Facebook and Twitter pages for news, warm-up party announcements and 'The Road to Rough Beats' series. For full line-up go to: www.roughbeatsfestival.co.uk
words by Sophie Lea
———————————————————————–
follow us on twitter and facebook for all our latest updates.