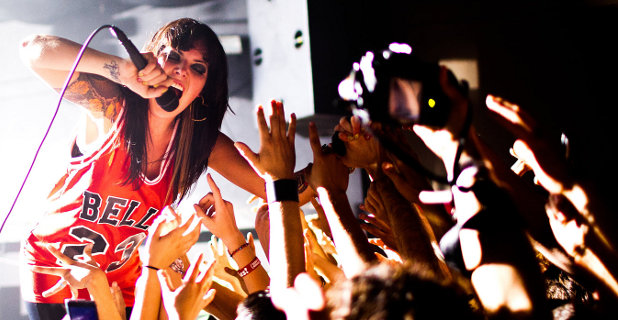 Sleigh Bells are coming back to Manchester! Anyone who survived with their hearing intact after last year's show at The Deaf Institute will surely be returning. A barrage of eight huge amplifiers emitted distortion fuelled mayhem last time. Now with new album Reign Of Terror in tow, things are unrelenting.
The Brooklyn duo – Derek E Miller & Alexis Krauss – stormed the best of 2010 lists with debut album, Treats. Its mixture of hip-hop beats, cacophonous guitar hooks, and bubblegum-pop vocals was an unstoppable behemoth.
Now the nefarious plot continues with the new record being described as "the sonic equivalent of a beautiful shotgun to the head", by the group's PR. We're not exactly sure how beautiful a shotgun to the head can be, but we'll have to wait until the February 21st release date to find out. In the meantime a teaser has been unveiled, showing fervent moments from the previous tour interspersed with shots of Krauss backstage.
The two serendipitously met while Miller was waiting tables. Krauss (then a school teacher) was having a meal with her mother who suggested her daughter provide vocals. Not long after, M.I.A picked up on the pair and signed them to her N.E.E.T label. Reign Of Terror sees the project become more collaborative with Krauss having influence over the music too.
Words: Simon Butcher