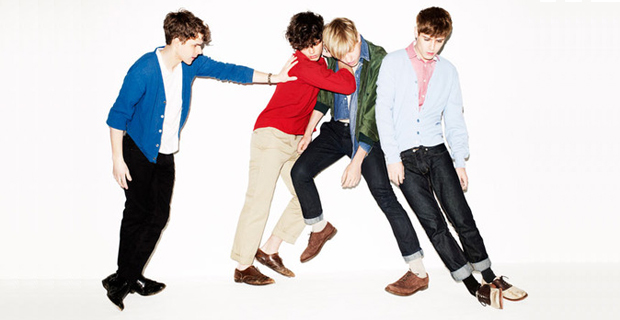 It's little over one year ago since Brooklyn outfit, The Drums, released their eponymous debut – a carefree, prelapsarian affair recalling the early ethos of Glasgow's  influential Postcard label. This post-punk goes surfing approach saw uplifiting Orange Juice inspired instrumentation providing the backing for solipsistic outpourings of lament from front-man Jonathan Pierce for everything from dead companions (Best Friend), relationship troubles (Me And The Moon), to lost days at the beach (Lets Go Surfing), and that's without mentioning the ominously titled It Will All End In Tears.
Yet the record wasn't a self-obsessed sigh of boredom, instead it sold over 200,000 copies and propelled these youngsters into a malestrom of critical acclaim which carried them off to places including Japan, Indonesia, Australia, Hong Kong, and Brazil. In much the same way as Morrissey draws crowds with his mixture of introspection and arrogance – the more The Drums strove to be misunderstood in the press – the more they were regarded as mysterious, and therefore intriguing.  
So what are they moaning about now then? Judging by the title of the single which is to precede upcoming album, Portamento, it's money.  "Before I die, I'd like to do something nice", whines the front-man in a monotonous way, with a resigned expression. "I wan't to buy you something, but I don't have any money", he continues like a brooding teenager. Oh well, it's the thought that counts. Nevertheless, it doesn't seem like much brainpower has gone into this soporific song. Even Pierce's inimitable dance moves are hidden away. But maybe we're missing the point, maybe they've turned it up a notch by seeming more disinterested than ever before, because afterall that's their thing. 
The new album has been quickly put together, with some tracks even spontanously written in Pierce's kitchen, in order to lend a more visceral feel to their comeback. This isn't the only change though – a group who seemingly become disaffected easily need to be kept on their toes. After guitarist Adam Kessler left in May, Connor Hanwick – who previously was on drums – has switched to guitar, and the other guitarist, Jacob Graham, has gone on to pick up synths. Two extra members are joining the trio on tour too, confusing stuff.
Citing Joy Division as one of their major influences, as well as touching on the intricacies of Johnny Marr's signature guitar sound – this is the perfect city to see such a captivating outfit. Ian Brown once famously quipped: "Manchester's got everything except a beach", but on 10th December The Drums' mixture of introspective lyrics and uplifting beach-pop melodies will have you thinking otherwise.
Words: Simon Butcher