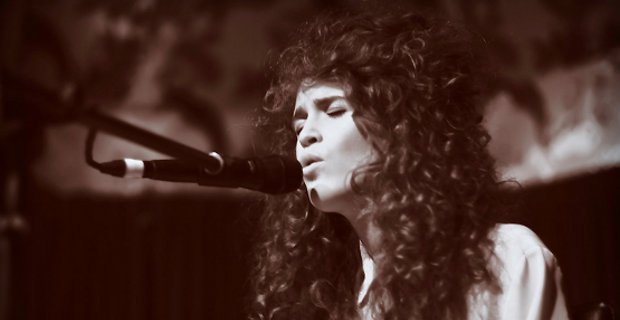 Manchester is a brilliant city for live music, no need for us to say it really, although we just did. Every week it's like living inside a festival, with something unmissable seemingly on every single night. Whether you want to catch the dulcet tones of Rae Morris or the dabke rhythms of Syria's Omar Souleyman, here's our guide to help you…
Words: Simon Butcher
Post War Years – Islington Mill, Monday 5th December
The East-London four-piece begin our week and come to town with the recently unveiled new single, All Eyes. The group released their acclaimed debut, The Greats and the Happenings, in 2009, and have been working with James Rutledge on new material. The second record is expected in early 2012.
Rae Morris – The Castle Hotel, Tuesday 6th December
Blackpool chanteuse, Rae Morris, is our pick of the week.  Despite still being in her teens Rae's precocious talent has cultivated deserved interest from major labels. 2012 looks likely to be the big year in her nascent career. There'll be very few opportunities to catch such a memorable performance in an equally special intimate venue.
Daughter – The Deaf Institute, Thursday 8th December
21-year-old Elena Toura is the woman also known as Daughter.  Her debut EP was self-recorded in a small warehouse in North London and self-released. Her soothing tones susurrate, leaving venues often silenced – gripped by an emotive voice recalling Natasha Khan, or The xx's Jonsi Birgisson. A second EP, The Wild Youth was released via the Mumford & Sons affiliated Communion label on November 21st and has been receiving hefty airplay via BBC 6 Music. It's an absolutely magnificent advancement of the minimal style of the first, with lyrical depth at its core.
Omar Souleyman – The Deaf Institute, Friday 9th December
This gig will be a rare treat for Western ears. Omar Souleyman is a Syrian musician who began as a wedding singer.  Tapes of his performances were often handed over to the happy couple as a gift and then copied to later be sold at local kiosks. American label, Sublime Frequencies, came across one of these popular tapes and signed him. Western distribution and international tours have since followed, making Souleyman into an unlikely cult figure.
Duologue – The Castle Hotel, Sunday 11th December                                                                                             
This London-based five-piece play with ambient guitar hooks and glitchy electronica. Their creations are reminiscent of Radiohead's Amnesiac experimentation. No wonder then that Duologue's first incarnation was born from the meeting of Techno DJ Toby Leeming & guitarist and vocalist Tim Digby-Bell. While studying at university the two bonded over a love of obscure electronica and Detroit techno. Duologue's two EP's are awash with creativity – fusing everything from piano driven melodies to dubstep wobbles.
Other Exciting Gigs:
The Goodnatured – The Deaf Institute, 5th Dec
Lemonheads – HMV Ritz, 6th Dec
Ice Age & Brown Brogues – Kraak Gallery, 6th Dec
Modeselektor – Warehouse Project, 9th Dec
The Drums – HMV Ritz, 10th Dec
Peaking Lights – The Deaf Institute 10th Dec
The Courteeners – Manchester Apollo, 8th 9th 10th Dec
If you would like your gig to feature email contact@northernnoise.co.uk
NORTHERN NOISE LIVE: HHYMN & GUESTS – THE CASTLE HOTEL, JAN 28th