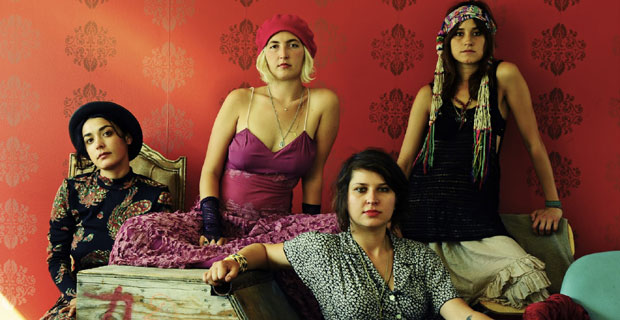 While refreshing may not be the most obvious adjective with which to describe Warpaint, a four piece who deliver eerie sounding vocals atop harmoniously tribal backings. There is a beauty to be had in the softness with which Emily Kokal delivers her lyrics, fronting the LA derived, wholly female four-piece. The band are set to perform at The Ritz tomorrow evening, displaying their cross-continental, distinctly English sound.
After covering David Bowie – Ashes to Ashes in an exquisite manner, full-length album, The Fool, was released late last year through Rough Trade. This is a dark and meaningful debut, with a sparse atmosphere. With the record having been described as "a sublime and beautiful record" by Red Hot Chili Peppers bassist, Flea, the four-piece are all set to deliver on stage. Easily compared to The XX, Warpaint offer a softer finish, yet evoke the same emotion both from themselves and their audience.
 Look out for Undertow, a track that demonstrates, without question, the beauty of this quartet's work. A candle lit ambiance created as Kokal delivers, in what is best described a soft cry, "What's the matter, you hurt yourself, opened your eyes and there was someone else". Stick your face on and get to The Ritz to join this tribe, it's war time, it's playtime, it's not cold outside but those are Goosebumps on the back of your neck.
Words: Jack Mitchell
Other News
Future Everything 2011
Johnny Rotten Interview
Manchester Orchestra Interview