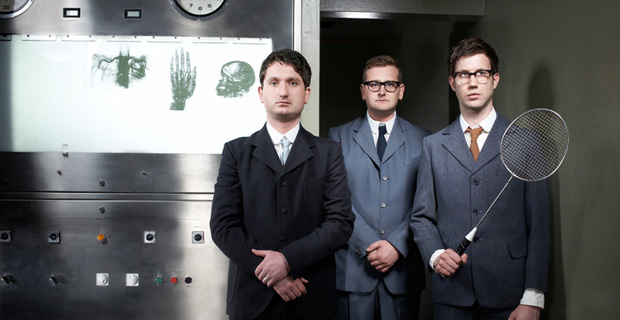 It was third time lucky for this Oxford based indie rock trio. Before finding Young Knives success, brothers Henry and Thomas Dartnall and buddy Oliver Askew sold their sound under the tame title of Simple Pastoral Existence. A brief split saw them reform under the guise of Ponyclub before a misunderstanding of the term 'Young Knaves' saw them land on the name we're all familiar with. The rest, as they say, is history but we'll fill you in on the blanks anyway…
Thankfully, their bedroom indie sound isn't so fickle as their name changing tendencies. Dressed in their trademark tweed attire, Young Knives started things as they meant to go on. Exploding onto the scene with their 2002 mini album Young Knives…Are Dead, the band cemented itself as post-punk act with a sense of humour.
As time progressed their sound refined, out went the jagged bass and throaty vocals and in came glossy pop sensibilities. The release of their latest record Ornaments From The Silver Arcade saw the band at an artistic peak. Which is good news, not just for us music munching punters who love a good track but also for the band who, despite their commercial successes have still retained their 'underground' cool.
Known for their energetic stage presence and electric showmanship, on paper Young Knives and Sound Control sounds like the perfect marriage of band and venue. In reality, we're sure this will be a gig you'll be talking about long after the stage lights dim.
Tickets are £8 and available here.
Words by Simon Bland (@SiTweetsToo).
Be sure to 'Like' us on Facebook and follow us on Twitter to keep up to date with all the latest Northern music news!