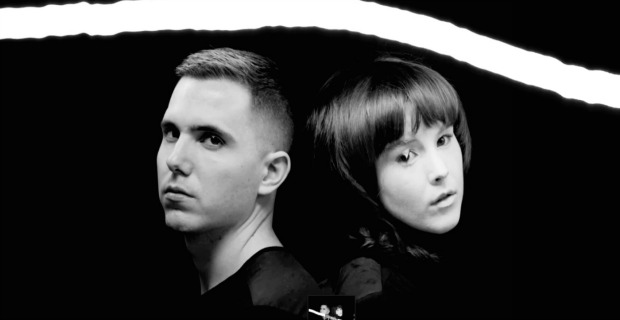 In early 2011, Corin Roderick and Megan James, two former members of the Canadian band Gobble Gobble, channelled their love of trap and modern RnB production into a heady brew of pitched down samples, Cocteau Twins-esque vocals and some seriously disturbing soundbites. Equally ready for the dancefloor or the smoking sesh that comes after, their songs enveloped gleaming hooks in a sizzurp and skunk laced fug leavened with enough celestial gravitas to get them signed to 4AD.
In October of the same year, NN recalls going to a rather poorly attended free gig which the duo played at the Deaf Institute. While they were lost on many, the couple of kids losing their shit to futuristic bangers such as "Lofticries" and "Belispeak" were clearly on to something. Fast forward three years and their trap-influenced sound is everywhere in pop music thanks to producers such as Diplo and TNGHT, influential YouTube channels such as Majestic Casual and our increasingly web savvy pop stars. In between their collaborations with Pitchfork darlings Danny Brown and Jon Hopkins, Purity Ring have taken their once-intimate live show to festivals and big venues around the world, and have clearly observed how rapidly this most internet-ready of sounds has filtered into the mainstream.
Now touring a well reviewed sophomore album Another Eternity, it's clear that they've dropped the darker undercurrent which appealed to so many. Roderick's productions sound expensive, packed with fathomless drops, crisp snares and EDM-esque crescendos, while James' vocals are as slick as anything released by Taylor Swift or Katy Perry. Some will undoubtedly be put off by this new direction, but it's arguably a canny move. Now that it's more acceptable than ever to like these aforementioned artists, even among the hipster cognoscenti, why not try and beat them at their own game? This aggressive, sickly-sweet sound has been the calling card of PC Music, perhaps the most divisive and exciting label/genre to emerge last year, though Purity Ring will likely never venture as far down this route as producers such as SOPHIE already have.
Fortunately, James' fascinatingly creepy lyrics are still intact, providing a welcome bite in their glossier moments, and the beats are as hooky as ever, especially on "Begin Again". The test will be whether this new mainstage ready sound, which is still wrapped up in a slightly twee, steampunk inspired live show, will bring the punters in. Do enough people really like Miley Cyrus, RL Grime and The Knife to stand in the same room to watch these guys? The answer should be yes. Working within this much overcrowded and already overdone format, these guys have produced a striking set of genre-straddling bangers and deserve to be far more than a curio in the ever mutating internet-pop scene.
Buy tickets to Purity Ring's show at Manchester Cathedral here.
Words by Thomas Short.
Keep up to date on all the latest Northern entertainment news by following us on Twitter, Facebook and Google+.