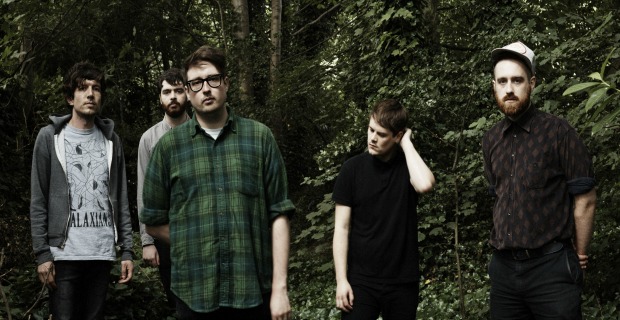 The 2010's have been a great decade for psychedelia so far, with acid-tinged guitars and wah-wah pedals making a comeback at almost all levels of the music industry. With dozens of local scenes working on their own permutations of the formula, old veterans like The Flaming Lips steering the ship and a central hub of activity – Liverpool's Psychedelic Festival- growing bigger and more prestigious every year, psyche's undergoing its most influential and creatively fertile period for decades. Hell, even Miley Cyrus looks like she's only one bad mushroom away from going full Jefferson Airplane. In short, it's a good time to be an acid-head right now.
One of the brightest prospects to emerge from this scene is the Leeds five-piece Hookworms, who climbed out of the extra-sensory soup after cutting their teeth as a stellar live act, becoming renowned for their disorientingly intense live shows which focused on blowing minds through a total sensory overload of noise. Having drawn inspiration and comparisons from all over the psyche spectrum- there's traces of The Doors and Barrett-era Floyd, the noise-terrorism of Sonic Youth, dashes of The Velvet Underground and a healthy dose of Krautrock – but despite this Hookworms never feel like a nostalgia or throwback act and deftly manage to avoid skirting towards cliché. They may use a language that's already been written, but it at no time feels like they're retracing familiar ground. This is music made for now, and it's a credit to the band that they've managed to create such a quintessentially psychedelic vibe whilst still holding on to their own unique sound and identity. Their debut LP, 2013's Pearl Mystic, understood this schism perfectly, and managed to capture that lighting-in-a-bottle intensity of their live shows without losing any of the magic during the recording process. Standing head and shoulders above their peers at the time of release, Pearl Mystics is a true hidden gem, and easily the best British psychedelic album to emerge in a generation.
So why then has this review not made a single mention yet of the record it's supposed to be reviewing? Well in essence it already has, as the first and most striking thing one notices when listening to the bands sophomore LP The Hum is that track for track, pound for pound, this record sounds almost identical to Pearl Mystic in almost every single way. The songwriting has improved somewhat – arrangements have gotten tighter and the standard of playing has considerably improved, but in terms of sound and pacing this sticks slavishly to the template laid out in Pearl Mystics, right down to breaking up the action with a series of instrumental jams named after Roman numerals (which in a nod to continuity are named IV, V and VI, suggesting a link between albums).
This may sound harsh on paper, but in reality couldn't be further from the truth. As mentioned, Pearl Mystics is an impeccable album, and all the superlatives awarded to it apply to this record too. Rather than an evolution or a rehash of their sound, The Hum instead feels like a direct continuation of their debut, more like the second disk of a double-album or a deluxe bonus edition than the next step forward in their career. While the band doesn't stray far from what they're good at, it's also clear that they've gotten much better at what they do along the way; the aggressive, punky energy of lead single "The Impasse" and the guitar heroics of album closer "Retreat" offer hints at where they could go in future, and provides a snapshot of a band still coming to terms with the depth and breadth of their sound.
Really though at their core Hookworms are a live act, and any deficiencies or complaints one might have about their studio output quickly dissipate when the band take to the stage. These are songs that were meant to be heard at an impossibly loud volume in a tiny club bathed in strobe lights, and by that measure they exceed mightily. They may not be at the finish line yet, but Hookworms are heading towards something truly special.
The Hum is released on November 10, and to mark the occasion Hookworms will be playing an exclusive album launch party at Leeds Brudenell Social Club on Nov 19th.
Words by Tom Sanders (@SANDERRRSSS).
Keep up to date on all the latest Northern entertainment news by following us on Twitter, Facebook and Google+.