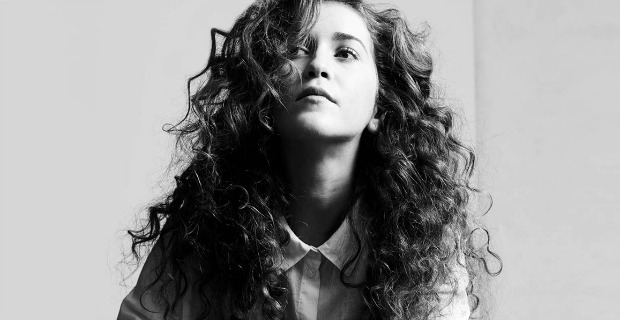 A teenage songstress from Blackpool with truly magnificent hair, Rae Morris really is an up-and-coming talent and her debut album is a long-awaited gem. Hardcore fans will recognise most of the songs from earlier EP's or her constant trickles of singles released this year, as well as a few new album-only tracks.
Opening song "Skin" is one of this year's earlier singles, a rhythmic song with a contemplative mood and a chanting chorus that builds on top of gentle chimes. It's an interesting choice for an opening song because it's a surprisingly gentle one, not one of the most striking powerful songs or one of the most emotionally hard-hitting vocal shows. Following track "Under The Shadows" might have been a more natural place to open the album with its deep echoing, slightly sinister, bassline and quickly building tension. It's a darker and more electronic song but it's packed with more impact and emotion than its predecessor.
"Closer" follows on with a gentler intro, before bringing in more electronic pop sounds and layered harmonies. It also boasts an elegant simple bridge that gives the singer room to prove her ethereal voice needs no accompaniment. Next track "For You" strips things back a little more to allow piano and vocals to take centre stage, a nod to Morris' earlier much more acoustic work.
Although it grows on you after a few listens, "Love Again" is one of the weaker tracks on the album and doesn't seem to match the lyrical prowess of other tracks. "Don't Go", one of the older tracks on the album, is also lyrically plainer but in a much more charming delicate and touching way. It's also another track that allows Morris' incredible vocals really come to the fore. This song might stand out from all the others just in its simplicity.
Title track "Unguarded" is lusher and more seductive – a hopeful love song with a hint of secrecy, but it's following song "Cold" that seems the high point of the record. Featuring Fryars in symmetrically arrange vocals the ode to faded lost love has the catchiest beat of any track on the album and Morris and her collaborator's voices work together perfectly in soaring harmonies. "Do You Even Know" is a surprisingly upbeat homage to the feeling of being misunderstood, really coming to life in the sunny choruses and "Morne Fortune" blends the sounds of rain and storm with piano and electric drum, topped off with the highest most ghostly choral note Morris pulls of in the whole album.
The second-to-last song is a reworking of another older tune – "This Time". The reworking isn't an improvement. The song has been slowed down a little and overlaid with loud breathy sighs – which don't add anything but do prove rather distracting. Final track "Not Knowing" has a surprisingly classical, timeless feel to it. The piano tune is rich and vibrant and the elegant lyric make a satisfying album end. 'Where do I go now', sings Morris'… towards her next album perhaps?
Despite the fact that at least half these songs won't be new to those who know Morris' work, it's nice to see how they work together in a full album. Morris' distinctive style risks becoming too similar over this longer length of time but these songs are carefully written and arranged enough that each has it's own flavour and uniqueness.
Words by Conori Blue (@ConoriBlue).
Keep up to date on all the latest Northern entertainment news by following us on Twitter, Facebook and Google+.