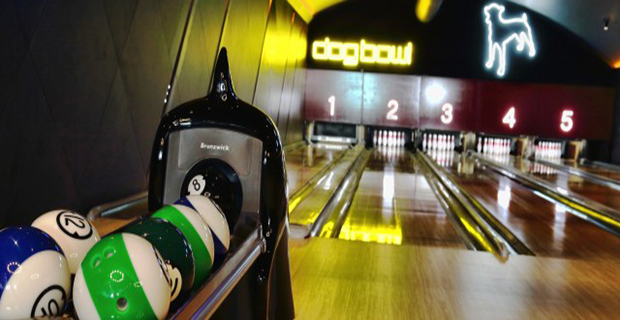 Make no mistake, the burger has definitely made a comeback. Well, the burger bar to be slightly more specific. By now, any foodie worth their weight in processed cheese will have no doubt heard of the Northern Quarter's Almost Famous diner and the burger-y goodness it dishes out. In the words of Pulp Fiction's hungry hitman Jules, 'That is a TASTY burger!' However those looking for a little more sophistication in place of the handmade indie ethics on offer at this eatery may have found their new favourite haunt in the form of an innovative and exciting new outlet from across town – Black Dog Bowl. Northern Noise paid them a visit to see what all the fuss was about…
A spin off venture from Black Dog Ballroom – a popular chain of New York inspired bars that boast trendy traits like diners, pool rooms and even a fancy pin-code protected private ballroom, Black Dog Bowl offers yet another USP to the mix. Nestled at the rear of the building is a row of five immaculate bowling alleys, each with their own set of pool ball style pin-hitters. Now, we know what you're thinking – the last time you likely stepped food in a bowling alley was at a birthday party during the tail end of your childhood. Your brain is probably stained with the memories of hyperactive kids and cheap fast foot, but Black Dog Bowl's niché couldn't be further from this niggling nostalgia. Instead, the venue is 100% dedicated to offering a fun and offbeat escape for adults bored with the same old bars.
While the venue does cater for children (check their daytime offers), as soon as evening arrives it becomes a refreshing change of pace for any big-kid wanting a beer and a bowl. The overall effect is startlingly fun. Style is the name of the game here – from the sleek interior design right down to the Converse-style bowling shoes you get before hitting the lanes. We stopped by for a quick game on a Friday evening to see a crowd of punters clearly loving the time spent within Black Dog Bowl's walls. Cheers erupted every time pins were hit, beer glasses clinked and most importantly, fun was had. In addition to the unsuspecting grins a game of bowling brings (you'll be surprised how much you've missed it), the friendly and accommodating staff offer alley-side bar service, allowing you to order and receive your drinks whilst you play.
The dining area greets you as you enter the venue and if you're seated in this welcoming half of the building, then chances are the pin-plinks and player groans/cheers will avoid you entirely. Earlier in the post we mentioned Manchester's new-found love of quirky burgers. Black Dog Bowl takes this fascination to a new extreme with its epic DB burger. While this meaty monster will set you back £15, you get plenty of beefy bang for your buck – including a 1lb patty, pulled pork, BBQ brisket, smoked bacon and onion rings. The thing's high – think of those teetering sandwiches Shaggy and Scooby use to make and you'd be on the right track – but it's sheer balls-to-the-wall ambition makes it alone worth the visit.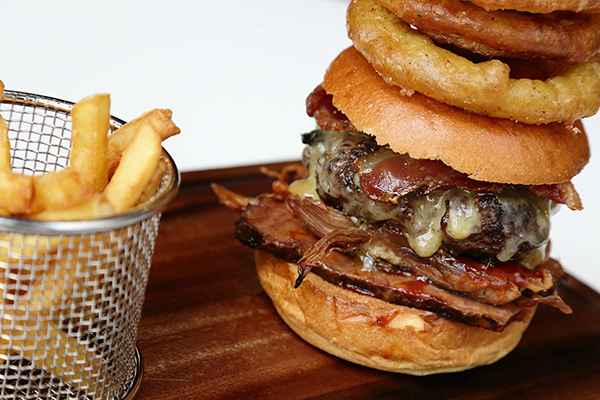 From there the burgers get smaller but no less impressive. There's also an array of Mexican food (tacos, fajitas, quesadillas etc), sandwiches, a smoked BBQ selection, salads and deserts available. Price-wise things were very reasonable for such a classy joint, plus if you visit on a Tuesday the kind staff will give you a whopping 50% off your food orders. Alcohol was a little pricier but still affordable, with a range of fancy cocktails on offer for those who want to look a little posher than they really are. The good word about this place is clearly spreading, too. Mere hours after we rolled out of Black Dog Bowl, one of them walking Topman mannequins from One Direction breezed in to check it out. However don't let the boy-band connection put you off. If you're after a lively and different night out in a swanky new bar – this is undoubtedly the place to be.
Black Dog Bowl is open between 12pm and 3am Mon-Thurs, 12pm-4am Fridays, 10am-4am Saturdays and 10am-3am Sundays. 
Words by Simon Bland. (@SiTweetsToo)
Be sure to 'Like' us on Facebook and follow us on Twitter to keep up to date on all the latest Northern entertainment news!