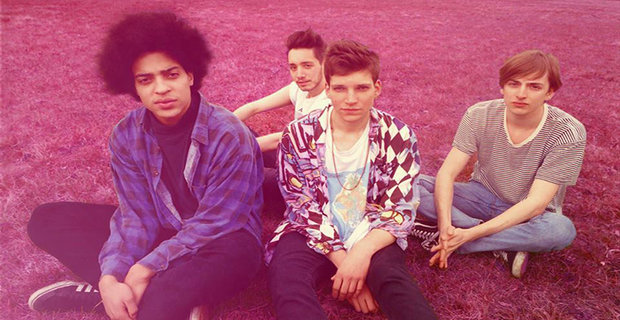 London based quartet Childhood, who formed at co-frontmen Leo Dobson and Ben Roans-Hopcraft's time at Nottingham University, have been creating quite a buzz for themselves on the indie circuit, having been hailed by many music publications and critics as one of the best new guitar bands in Britain.  The group has recently embarked on a headlining UK tour that has lent them time playing various small venues across Britain in support of the summer release of their debut album.  The Manchester stop of the tour saw them take up residence at Night & Day Café, with support drawn from local bands Temple Songs and Young Myths (the latter who is definitely worth a listen, and you can found here).
There's usually some skepticism as well as expectation in regards to going to see any highly touted band perform, but Childhood's live show explained why this at first slightly generic sounding indie band has garnered such hype, as the cohesiveness of the quartet was evident throughout their hour long set.  Dual vocalists and guitarists Dobson and Romans-Hopcraft project evenly within the surprising-at-just-the-right-time instrumental tones of Daniel Salamons (bass) and Chris O'Driscoll (drums), delivering a resounding sound reminiscent of Palma Violets, who the band has supported in the past.  There's something about Childhood's music that captures and keeps the gig-goers attention, whether it be the confidence in which they perform or the psychedelic yet forward-moving tempo of their songs, which seems to transcend a specific genre or certain aesthetic of venue.
In fact, the best thing Childhood offers is a sort of atmospheric quality of otherworldliness, grounded in their tightly fused instrumentals. What sets them apart from other shoegaze-influenced acts is this quality of performance; a reminder of why it is important that not only a band create good music, but be able to convey it successfully as well.  Despite the inherent confidence of the band, there's no pretense of overt showmanship or anything to show that Childhood aspire to anything more that simply providing a night of good vibes, good tunes and a promising future for the genre.
Words by Ruby Hoffman (@RubybHoffman).
"Be sure to 'Like' us on Facebook and Follow us on Twitter to keep up to date with all the latest Northern music news!"