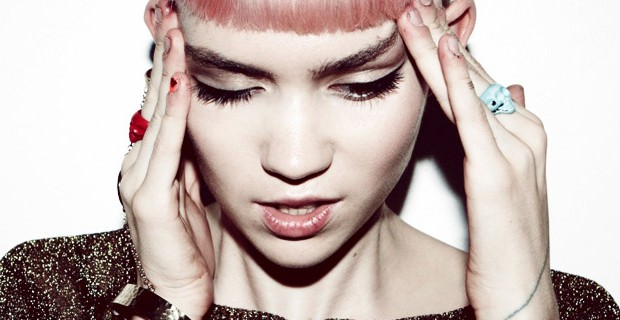 It's fair to say that there are a lot of people interested in Grimes right now. Currently on her UK tour she came to the HMV Ritz in Manchester on 30th August to showcase just why that interest is deserved.
Such is the pull of this young Canadian that there was a pretty hefty queue outside the venue from early on, forcing stage times to be put back from the start to ensure everyone was inside in time for her performance.
Support came from Becoming Real who announced "I'll just start then." and did just that. Not a memorable performance by any means, the odd member of the crowd nodding away to the beat created by the various knobs and buttons he pressed and manipulated throughout. It was a case of having some music on while people found their vantage points.
The venue was packed by the time Grimes came on, and also very hot. She came on with a man who would be her percussionist for the night. Banging away on a drum pad with vigour throughout the evening.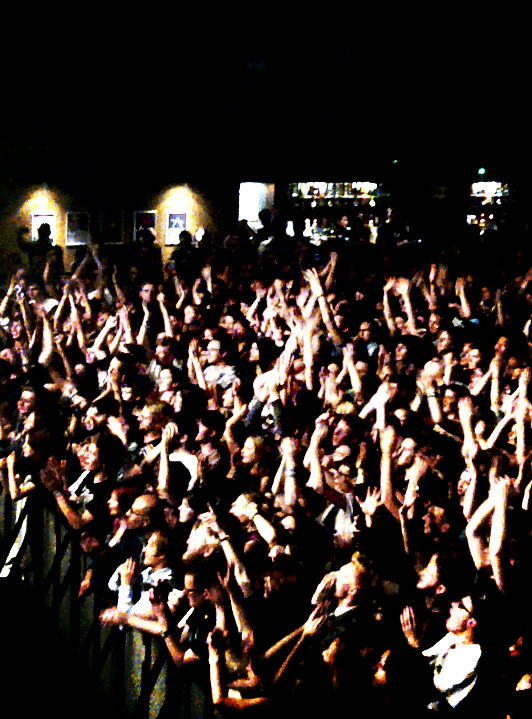 She is tiny by the way. And looks even younger in the flesh than she does in her videos, but three albums into her music career means she should be quite mature in her performance. The set up meant that for the majority of the show she was pinned behind her table, sometimes with her microphone balanced in various places so she could sing as well as manipulate the sounds she was creating simultaneously.
The highlights were obvious, Oblivion and Genesis getting the biggest cheers and reaction from the crowd. In fact any song from recent album Visions was greeted positively. Between there was various tracks that seems to wash over the crowd without fully involving them. We weren't transported along a musical journey, at times we felt stationary when we actually came here to move.
Then the dancers came on.
Oh the dancers. And please, when we say dancers we don't mean a highly choreographed dance troupe. We mean two men, possibly not fully aware of the world around them, who came on with very, erm, individual, styles. One of them, with shoulder length hair and a tendency to crouch, looked like Napoleon Dynamite had decided to carry on his dancing career.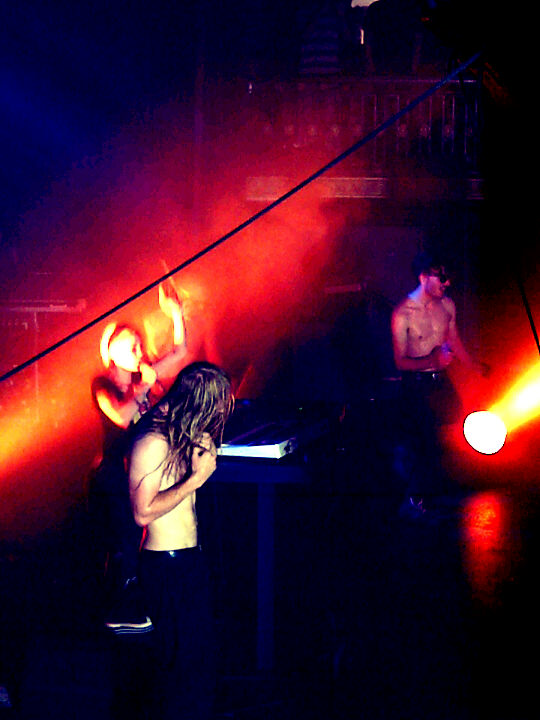 Did she mean for these to be a distraction or a compliment to her musical backdrop? As we're talking about them more than the various aspects to her setlist, the answer has to be the former. Especially when, for the encore, they returned topless and glistening with sweat.
Grimes ended on a high, with the crowd pulsating, arms in the air and lights flashing around. This was by no means a poor show, we probably just came into the gig with expectations too high.
words by Daniel Savage