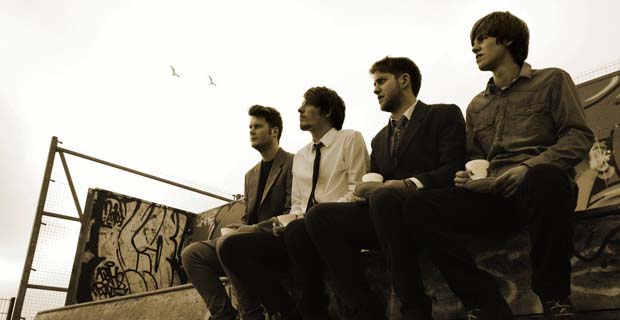 Kings Of Leon's American tour ended promptly when frontman Caleb Followill left the stage after telling fans he was going off to vomit and then drink a beer – rock'n'roll. He never came back, and KOL have not played since. However, upon listening to Secret Pilot's debut single, Lucy, it's easy to be fooled into thinking the US stadium-rockers have made a triumphant return from the depths of adversity – such is the aural resemblance.
Secret Pilot don't take their inspiration from hoe-down's at rodeos or days drinking moonshine from blues bars in the Deep South – they formed in Manchester. The four lads met at university while sharing halls together and have two EP's to their name already. However, this debut draws a line under previous material and marks a new beginning in their nascent career.  
LUCY (official single) by secretpilotuk
 
While there are obvious comparisons to make, there's nothing parochial about their sound. A-side, Lucy, is a great big bouncy slice of indie-pop at its best, with an anthemic, and slightly sinister chorus. "We're going nowhere, this plane is coming down," sings Alistair Harrison, as things soar to a crescendo.  The accompanying B-side is full of creative thought – futilitarian lyrics, intricate riffs, switching drum patterns. No Sign Of The Truth lends the off-kilter complexities of The Strokes' ingenious guitar solos, most notably Reptillia, with the aforementioned KOL penchant for an all encompassing earworm chorus.
No Sign Of The Truth (b-side) by secretpilotuk
 This is an impressive debut which impenitently embraces the indie-pop genre without being lyrically moribund or musically vapid. Some may well make invidious comments about influences and label them as being pastiche, but a single like this is certainly a cogent riposte.
Words: Simon Butcher