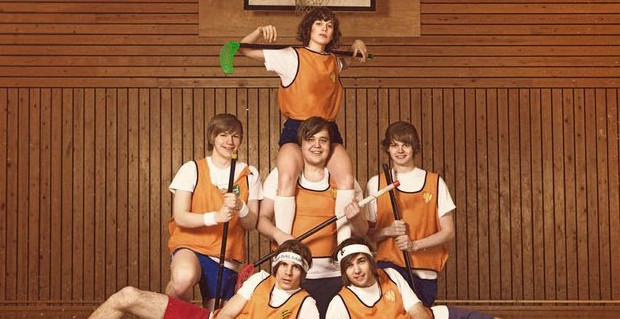 Lancaster Library, yes the actual library (where the books are), will several times a year move the shelves around and invite us in to enjoy some live music courtesy of Get Loud In Libraries. For those of you not akin to this most unusual and delightful venue it's very intimate and for such an orchestral band perhaps quite a small stage to play with such big sounds. It was here that we caught Norwegian group Team Me.
Team Me may have started out as Marius D. Hagen experimenting in his bedroom, but it's now a fully fledged indie pop orchestral 6-peice fresh from world tours with The Wombats and British Sea Power, showcasing their debut album "To The Treetops!" now out.
The first thing you would have noticed about this band is their youthful abandon. From the headbands to the xylophone a hint of childlike innocence is prevalent throughout the performance. It might be deliberate, it could be genuine. It's quite difficult to gauge the sincerity. That being said, if your stomach is turned by the twee and blithe you might want to avoid the shamelessly joyful mini-symphonies of Team Me. The little poppets looked like they might burst with happiness at any minute.
Like bands before them such as The Flaming Lips, it seems as if Hagen has deliberately shunned the notion that smiling = not cool, and embraced the lyrically forgotten emotion of happiness. With playful performances of "Dear Sister" and "With My Hands Covering Both My Hands I Am Too Scared To Look At You Now", many a Smiths fan may have headed off to the pub to moan about the weather but behind it all there is some serious composition. Hagen has clearly got a vision for the sweeping melody and echoes of Arcade Fire came though on "Weathervanes and Chemicals".
Throughout, the whole band seemed in tune with each other and enthusiastic to the small, quiet crowd. It will have been a difficult job trying to maintain a level of energy to such a static audience, but they must be commended for beaming energy to the end.
The sound didn't seem to vary enough unfortunately and I'll be very surprised if you don't hear them in the background of a nature documentary any day soon. Not that that's a bad thing, it did wonders for Sigür Ros.
They are a young band though, with a talented front man, so it might be interesting to see how they mature, and what the next album will bring.
words by Sophie Lea
—————————
Why don't you come to our live events? Get tickets here. You can also follow us on twitter and facebook.