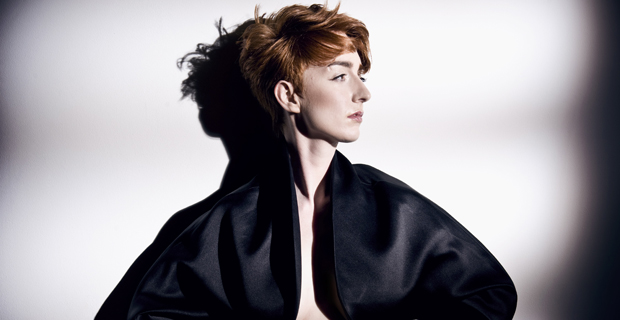 True Faith is a celebration of Manchester's established and emerging talent. As part of Manchester International Festival, this event brings together conversations with influential figures including Bernard Sumner, Paul Morley, and Barry Adamson, with a series of cutting-edge live gigs in a wonderfully constructed state of the art Pavilion Theatre outside the city's town hall.
The first night of live music saw the youngest act, but also one of the most highly regarded, take to the stage; Egyptian Hip Hop.  Also featuring were XXXY and Plank! in a bill put together by Everything Everything, who had previously played this event at the last of these biennial festivals. Now it was the turn of DJ Dave Haslam to impress with his carefully hand-picked selection of artists.
First on were Air Cav, who created a glistening atmosphere with a mixture of shimmering guitar reverb and post-rock violin textures. When they took to the stage a room of around 50 people greeted them with warm enthusiasm, by the time the lights went up at the end of the set a 400 strong crowd were in full appreciative voice. At times foot-stomping indie – at others verging on a light-hearted barn-dance – it's hard to pin this group down, but they certainly gave a cogent argument as to their inclusion. A cover of Kraftwerk's The Model suited the set perfectly, violin making up for synth slides – showing how dexterous they can be.
Next up were Silverclub, a band we'd previously seen with grass under our feet while braving the elements at the first ever Friends Of Mine Festival a few months ago. Tonight we unusually had carpet under our feet, in a very plush made to measure temporary venue. The only problem with this carpeted venue is that it did tend to create a static atmosphere; no electricity in the air, the crowd not fully relaxed enough to commit themselves. Nonetheless, Silverclub did everything they could to turn the springy floorboards into a communal trampoline.
Pulsating '80s inspired synths reverberated around the pavilion. A great sound-system adeptly brought to life their expansive set-up, from synth-sprinkles of Henrietta Smith-Rolla, programmed elements and scratching of G-Kut, Chris McGrath's bass undercurrent, front-man Duncan Edward Jones' cowbell clattering, to Jim Noir's fervid drumming (reported by Dave Haslam to be his last night with the group). For those unaware of Silverclub, they have some well-crafted songs which you can listen to here, but live for some reason they seem to undergo a metamorphosis, changing into huge electro-anthems. Refreshingly too, their best moments seem to come from new material outside of the previously released Answers and All In All EP's, although we're pretty sure we heard front-man, Jones, singing about 'parsley, sage and rosemary' at one point – hopefully that was just the tinnitus affecting our hearing after a vibrant set.
The headliner was introduced by compere, Haslam, as being "the first name on the list", when compiling his two nights for MIF 2011. This was also to be the only performance this year from the much anticipated Lonelady. Her delicate blend of spacious pop speaks volumes about Manchester's future. "The current generation is picking up the baton, but running off in a different direction," Haslam had previously noted in the build-up to these events – Lonelady is certainly proof of that. Looking slightly like La Roux, with rugged red hair and steely expressions being pulled, there are certainly '80s influences in her sound too, but she's not trying to be a modern-day Annie Lennox.
Title-track from 2010's debut, Nerve Up, with its hip-hop sampler glitch and drum pad synth snare, has its reference points, but is a sharp and slick product of modern-age bedroom production. The minimalist approach conveys a brazen attitude, largely unspoken via her meek onstage demeanour, yet there's a confidence within fragmented vocal whispers and resonant guitar plucking.  Intuition, her first single, is delivered with the utmost self-assurance, she moves slowly with intended insouciance. Lonelady is now a misleading modus-operandi, a strong kick-drum is at the core of this set, as provided by one of what is a three member group.
Being backed by Paul Morley so early on in your career could well be inauspicious when trying to find your own creative space and detach from Manchester's musical past. Nonetheless praise from someone so steeped in post-punk history cannot go unnoticed. Although there are retrospective echoes of the past within her performance, these subtle nuances form an intricately melancholic sound which demands time and attention from the listener – a refreshing feat in an age of musical disposability. By her own admission the aim is to be "organic and slow burning", and Nerve Up is certainly an acquired taste, but the best things in life are. As to whether Lonelady will scale the same heights as Delphic and Everything Everything, or whether she will end up lost with thousands of others inside a dusty external hard-drive, depends on just how much time the public are willing to spend on a slow-burner.
Words: Simon Butcher