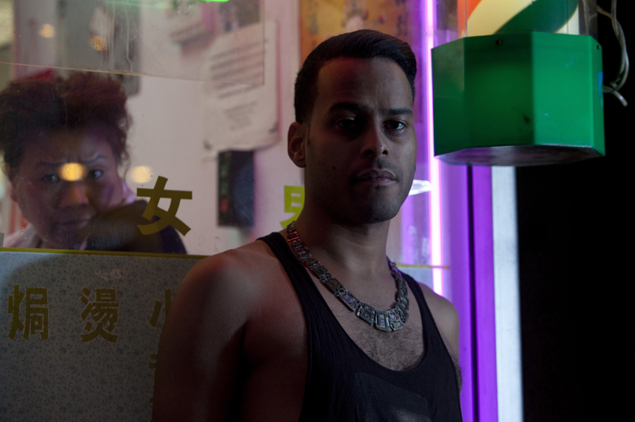 As the nights draw in and Halloween arrives, the familiar sound of Michael Jackson's 'Thriller' is the backdrop to a cacophony of slutty Devils and Jimmy Saviles nationwide.
Lucky for us, we had something altogether more imaginative to enjoy.
We caught the inimitable Twin Shadow at Sound Control Manchester.
George Lewis Jr, Caribbean born, Florida raised and Brooklyn based is the name behind the face of  New Wave emotibot Twin Shadow.
Lewis began recording under his new moniker in 2006, having previously written music for stage and screen. His debut album 'Forget' was released in 2010 and the follow up 'Confess', partly inspired by a motorcycle accident Lewis suffered, was released earlier this year, to a rapturous response.
Twin Shadow himself is a striking individual, with achingly good looks and a refreshingly non-contrived style that sets him in good stead for the music industry. His music is a difficult beast to pigeon hole.
The pungent aroma of 80's synth pop certainly can't be ignored, neither can the yearning Morrisey-esque vocals but his influences, are encapsulated not imitated.
Lewis's stage presence becomes at once potent with the first few bars of 'Golden Light'. His smooth vocals impress and pleasingly, it is apparent that his material transfers well live.
There's a lack of atmosphere in the venue, due perhaps to the unexpectedly small turn-out and even with the arrival of infuriatingly brilliant pop-melodrama 'Five Seconds', the crowd still seem guarded.
You can almost feel the tension of a swath of muted bodies trying desperately not to do the natural thing and bop like an infant screaming "FIVE SECONDS TO YOUR HEART STRAIGHT TO YOUR HEART, CAN'T GET TO YOUR HEAAAAART, THERE'S NO WAY TO FORGET IT ALLLLLLL" 
Everybody is doing that in their head but for some reason, their bodies don't move.
Even members of his own band are unenthusiastic and unanimated. Perhaps it is the sheer presence of the man himself. A combination of rhythmic pulsating guitar riffs, pitch perfect vocals and saturating brown eyes have us all glued to the floor transfixed.
As the set progresses, the mood lifts slightly and the odd hip movement/one handed clap can be seen to debut album favourites 'Tyrant Destroyed' and 'Castles In The Snow'. A brief shower of enthusiasm is felt with the arrival of brilliant homage to 90's R&B, 'Patient'. All the while Twin Shadow does his utmost to prove he's not just here to collect his performance fee.
The climax of the evening, unsurprisingly is the final encore. A stripped down version of 'The One' performed by Lewis alone. With the power of his voice laid bare and a spooky Hendrix-ish guitar performance, the crowd is for the first time in the evening, forgiven for the inability to move.
Still unsure whether to check him out? We implore you to wrap your ears round 'Confess'.
Cheesy and ardent and gloriously reminiscent. All the good things pop should be.
words by Sophie Lea (@gingerspider)