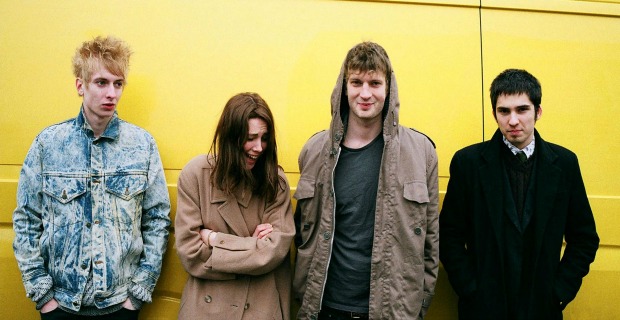 Crowded below Manchester's student union in the not-too-small not-too-big Club Academy, a crowd gathered to watch the so-called love-child of folk and grunge, Wolf Alice, perform there striking and powerful songs live for the pleasure of Manchester.
Before that all began though, a set of scratchy guitars and adrenaline fueled punk attitude took the forefront with opening act Dingus Khan – a group who's confusing medley of musical approaches is kind of fascinating in its weird, chaotic rhythm. Also supporting the main act were Brighton four-piece Kins, a group that look like they should all belong to separate bands and separate genres (indie… pop… even metal) but meld together into a psychedelia-tinted bleak brand of pop-punk. The songs are fairly brutally executed onstage, layering instruments heavily on top of one and other until the vocals are lost in the hazy background or humming bass and hammering drums.
Finally it was time for the main event and Wolf Alice stepped out and got right to the point, beginning their set with two heavy grungy tracks straight up with "Storms" and "She", a track that would so easily fit into a Savages record it took me a minute to realise it wasn't actually a cover.
Despite the fact that the band haven't been around for all that long, and haven't made many official releases, the crowd sang along to nearly every song. Despite never having a proper release, the grunge-heavy, twangy "You're A Germ" was recognised across the crowd in all its bitterly lacerating fury. Some songs weren't so easily recognisable, Seeing as they were brand new to the stage (as admitted by the lead singer, softly adding a quick 'we've not played this one on stage before' just as the song kicked in). These new songs show a growing diversity and confidence in the band's music, and an act that won't stick grimly to a set tribute of any one set of genre rules. "Turn to Dust" and "Lisbon" are both rich with the power and punk grunge that Wolf Alice fans have come to love and expect from the Camden-hailing foursome. "Swallowtail" on the other hand, sees a break from the pattern with vocals and acoustic guitar both being provided by the drummer in a more melodic deceptively gentle style that inevitably builds into a swirling heavy conclusion.
The band chose crowd favourite "Bros" to end their set with, the anthemic track chanted along to by the crowd before being followed by cries for an encore. These were answered by another two favourites from the group's early releases – the more delicate and hushed "Blush" before turning the tide to finish up on the forceful, hard-hitting discordance of "Fluffy", a last song to drive the crowd wild one more time.
Wolf Alice are clearly a band made for and tested on the live circuit. They occasionally talk to and entertain the crowd, but the focus here is on the songs and as one ends the audience is itching for more. People were there to see them, to move with and to the music, and they weren't disappointed. There's a clear chemistry between the band and a joy in performing live together that shines out through even their gloomiest tracks and is simply thrilling to watch.
Words by Nori Blue (@ConoriBlue).
Keep up to date on all the latest Northern entertainment news by following us on Twitter,Facebook or Google+.