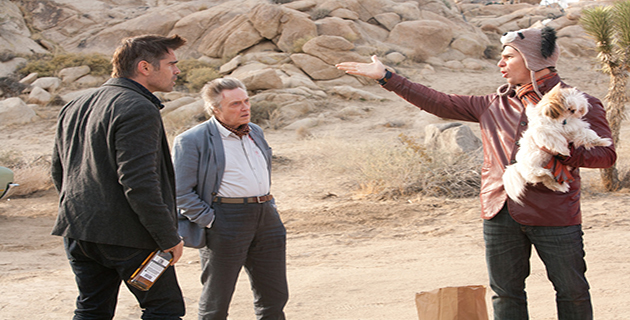 Today, the devilish dark comedy Seven Psychopaths finally arrives on DVD and Blu-Ray and to celebrate, we're giving away some ace movie swag worth going mental over. Directed by In Bruges man Martin McDonagh and boasting a refreshingly left-field cast, this new one tells the tale of a burnt out screenwriter who's struggling to finish his latest script. In an attempt to get his creative juices flowing he inadvertently falls in with a bunch of LA oddballs and quickly becomes entangled in the world of back alley crime and celebrity dog-napping. That's like kidnapping but, you know, with dogs.
Sounds ace, right? That's because it is. We're so psyched that it's finally available to take home for keepsies that we've wrangled three copies of the DVD plus three super cool merch packs containing T-shirts, badges and playing cards. To get your hands on these freebies just answer this dead simple question:
Who directed Seven Psychopaths?
a) Martin Freeman
b) Martin McDonald
c) Martin McDonagh
If you think you know the answer then let us know by sending it, along with your full name, to Contact@NorthernNoise.co.uk. We'll be announcing the winners' names in a few days time. Good luck!
Words by Simon Bland. (@SiTweetsToo)
Be sure to 'like' us on Facebook and follow us on Twitter to keep up to date with all the latest Northern entertainment news!