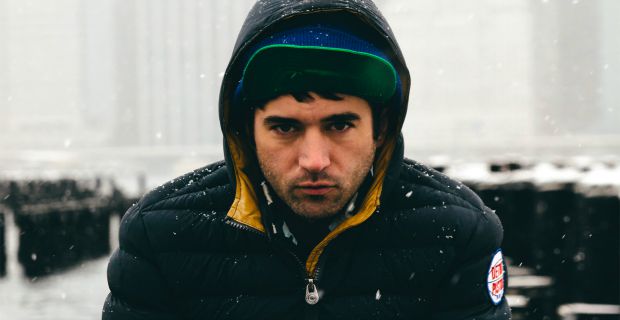 It's been four years since Sufjan Stevens last visited Manchester and a lot has changed. Back in 2011, the Michigan-born singer-songwriter was riding a wave of newfound experimentation and excitement. His face was covered in neon paint and his set in electrical bleeps and bloops as 2010's smart syth-pop album The Age of Adz blew the roof off of the Apollo.  As Sufjan himself reflects mid-set tonight, it was a crazy time.
Cut to 2015 and the soft spoken singer is back in the same venue to promote new one Carrie & Lowell, a sort of audio therapy session dominated by the conflicting feelings that ensued following the death of his long-absent mother. Painfully personal and undeniably raw, Sufjan's first new album in five years feels miles away from its space-age predecessor; almost as if death derailed his whole creative process, forcing him to digest the experience or run the risk of never making music again. While Carrie & Lowell may not have been the record fans were expecting post-Age of Adz, it's one that was undeniably necessary.
Accompanied by the melancholy piano chords of 'Redford' from 2003's Michigan, Sufjan quietly sets the tone for the first part of tonight's show; powering through the bulk of his new material thick and fast. Delicate guitar picking and an emotionally layered voice carry "Death With Dignity", "Drawn To The Blood", "Eugene" and "The Only Thing" as they float across the Apollo, all performed with a therapeutic steadiness.
These newer tracks are played without pause, like a bandage that needs to be removed quickly and with as little pain as possible. All the while, Super 8 home-movies play on the segmented screens above his head, harking back to a place of long-forgotten nostalgia. It's clear that the wound that inspired these songs is yet to fully heal and it's reflected in his tender performance. That said, it's encouraging to see a little techno pulse infiltrate "Should Have Known Better" and "All of Me Loves All Of You", encouraging a few sly dance moves and implying that recovery isn't too far away.
"The Only Thing" acts as a touching confessional while "No Shade in the Shadow of the Cross" and the eponymous "Carrie & Lowell" help put this chapter of the set to bed as Sufjan pauses for a moment of reflection. He tells us about his childhood, his parents and his relationship with death. He tells us how contrary to holding you captive, the looming presence of the end can also help you to fully live your life. He tells us how death can be a companion through life and how that isn't such a bad thing. Suddenly, tonight's sombre theme transforms into something strangely optimistic.
The slow build of "Vesuvius" makes way for a handful of back catalogue picks, with Sufjan treating us to "For The Widows in Paradise, For the Fatherless in Ypsilanti", "To Be Alone With You" and "Futile Devices" before ending with "Blue Buckets of Gold" and a crash of static. A brief encore rekindles the intimacy he creates so effortlessly, with "Concerning The UFO Sighting Near Highland, Illinois" and hopeful anthem "Chicago" keeping the crowd mesmerised until the final note.
Words by Simon Bland (@SiTweetsToo)
Keep up to date on all the latest Northern entertainment news by following us on Twitter, Facebook and Google+.