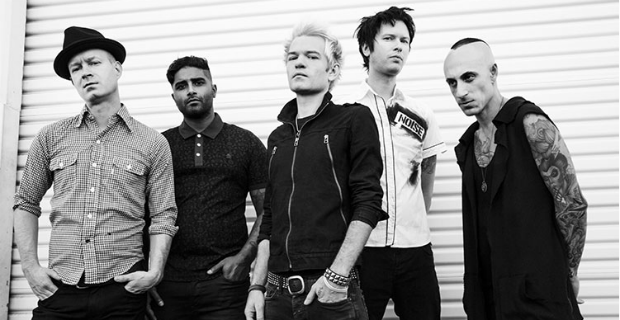 Sum 41 released their peppy pop-punk debut All Killer, No Filler fifteen years ago back in 2001. A lot has happened since then. There's been public drama, band-member dropouts, band member returns and four varied record releases in the intervening time. Keeping a band together is by no means an easy task, especially when you're operating in a genre as littered with opportunities for excess as pop-punk. It's now 2016 and as the band take to the stage at Manchester's airy-yet-weirdly intimate Albert Hall to greet a raucous rock crowd, it's clear that while their journey may have taken them all over the place, their fans haven't gone far at all.
As the headliners of The Kerrang! Tour, frontman Deryk Whibley, bassist Jason 'Cone' McCaslin and returning original guitarist Dave 'Brownsound' Baksh are welcomed as season vets. While they may not be the original package (Frank Zummo steps in for original drummer Stevo and Tom Thacker joins on backing guitar), the band are the closest they've been to whole since 2006. As if to celebrate, they pull out a set list chock full of enough hits to have you mentally regressing back to your baggy jeaned high school years. Just us? Ahem…
Does This Look Infected track "Over My Head (Better Off Dead)" warms up the Albert Hall, with a rake thin but sprightly looking Whibley bounding about the stage, clearly feeding off the crowd's raw energy if nothing else. The spiky haired frontman may be suffering from the flu but it does little to impact his commitment to tonight's performance, firing out older tracks "Motivation" and "Summer" much to the excitement of the crowd. "We're going to have a good fucking time tonight," says Whibley between tracks, "I can feel it". Manchester cheers in approval as the familiar opening riff of "The Hell Song" fills the venue.
A slight mid-set dip is punctuated with a few headbanging tracks paying homage to the band's hair-metal alter egos Pain for Pleasure and a couple of covers, including Queen's "We Will Rock You". An airing of "Still Waiting" gets things back on track, with the bouncy "In Too Deep" rounding out the band's main set. It's not long before the quintet are demanded back for an encore though, with the band pulling out their biggest track and pop-punk classic "Fat Lip" for their grand finalé. Cocky, punchy and full of youthful energy, the track transports everyone in attendance back to their high-school adolescent mindset which as tonight's performance proves, isn't always a bad thing.
Words by Simon Bland (@SiTweetsToo).
Keep up to date on all the latest Northern entertainment news by following us on Twitter, Facebook and Google+.