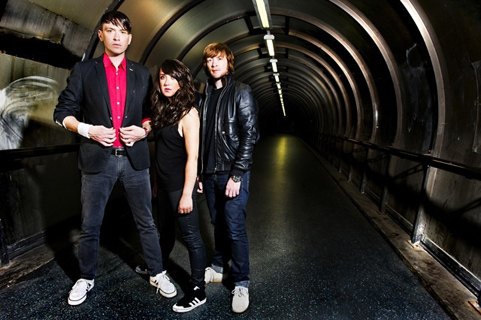 Manchester electro-indie outfit, The Whip, are all set to bring out the follow up to their debut. Wired Together will hit the shops on Monday but those eager enough can buy the record digitally. The full album has been unveiled already – plus opening track, Keep Or Delete, is available to download for free. An accompanying remix by Blue Satellite is also being given away.
The Whip: Wired Together by Southern Fried Records
After releasing X Marks Destination in 2008, the band have been relentlessly touring – seriously, the gig schedule has been insane.  Each show rambunctiously brought to life the blueprint laid down by their debut. Standouts including the riff driven, Trash, 90 BPM dance-smash, Divebomb, and the fervid energy of Blackout, were transformed into swashbuckling examples of how an indie-electro crossover should be done. The fact that the trio have even toured in support of Ed Banger's biggest success, Justice, emphasises an ability to penetrate the world of electronic music. Many guitar-based acts have chosen to pick up a keyboard while the '80s sound is en vogue, but The Whip have proven to be ahead of the curve and blurred the lines as much as possible.
Many of the finer moments on this second record will be familiar to fans. Metal Law, Shake, and Secret Weapon, were incorporated into the live show some time ago, but here, with the help of producer, Jagz Kooner, they've finally managed to capture the onstage impact which has turned dancefloors into trampolines.
Words: Simon Butcher