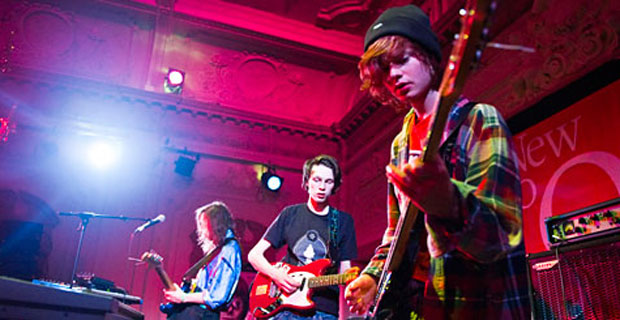 Manchester International festival is a biennial artist led event showcasing emerging talent across the cultural spectrum. Already Bjork has been confirmed as bringing the world premiere of her Biophillia live show to the city. This ambitious multimedia project in which music, apps and internet installations are to be incorporated, looks set to be the pinnacle of what will be an exciting 18 days.
Another event not to be missed is True Faith, a very special series of gigs and talks curated by DJ and writer, Dave Haslam. For just £5 you can see a handpicked selection of the best emerging acts in the city playing a short set including material specifically written, arranged, and performed for the festival itself. 2009's line up saw noteworthy names including Delphic, Everything Everything, and Dutch Uncles, taking to the stage in their home city before going on to impress the rest of the world.
This year Everything Everything return as curators for the first of three fantastic nights of live music. Headlining for them on 5th July are South Manchester teenagers Egyptian Hip Hop, who have already courted major attention from the likes of Q, NME, and The Fly, after the release of just one EP and single. Also that night Withington based post-rock instru-mentalists, Plank! and floaty, garage house act XXXY have been selected
Read our live review of Egyptian Hip Hop's London show with Dutch Uncles supporting here
View a gallery from the gig here
The other two nights, held on 6th and 12th of July, are to be curated by the man who DJ'd over 450 times at The Hacienda, Dave Haslam, who unquestionably has an ear for good music. His choices include the angular post-punk of female solo artist LoneLady, Depeche Mode influenced Silverclub, and Air Cav on the 6th, while the final night sees one of the most talked about electronic acts living in Manchester close the event.
22-year-old Callum Wright, aka D/R/U/G/S, will be getting the crowd hooked on his blissful blend of tranquil, textured, ambient melodies. Already Wright, who is joined onstage by friend, George Haydock, provided a highlight of last October's In The City festival. Now with the launch of his new EP, Love/Lust on May 9th, momentum is growing and D/R/U/G/S are set to provide an unmissable highlight to yet another festival. The dark pop of Young British Artists, and Golden Glow will also be on display.
Alongside these gigs will be three Close Up onstage conversations in which Dave Haslam interviews Manchester icons. Bernard Sumner of Joy Division and New Order will be the first on 4th July, then music writer and broadcaster, Paul Morley, will be next on 11th July. Finally the former Magazine /Bad Seeds bass player and soundtrack composer Barry Adamson will be in talks on 13th July.