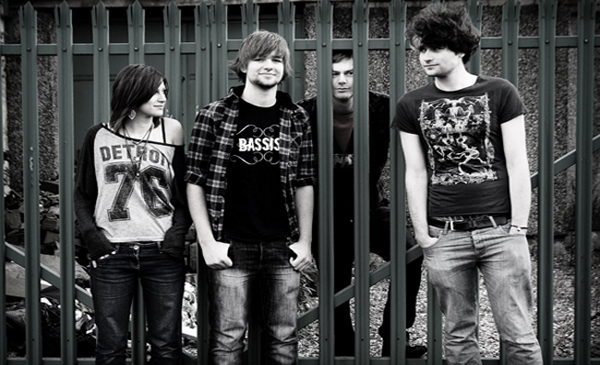 Heard of Switchboard Spectacular?  Well you should have, they're everywhere.  From Snowbombing fest in Austria to the Blue Room pub in Blackpool, this Northern-born band has been rocking audiences for ages.  Their blend of super catchy prog-indie-rock has earned them an ever-growing army of fans and some cushy support slots opening for bands like Ash and Hayseed Dixie.  Northern Noise cornered guitarist Dan Clayton, bassist Arran Lomax, Keyboardist Andy Palfreyman and drummer Beth Pawson in a Blackpool car park after dark…sounds a bit dodgy, but all we did was chat.  Honest.  Don't believe us? Take a look below.
NN: So how did you all meet?
Dan: The band started years ago, not as Switchboard but as something else.  But the original members were me and Andy who are still in the band and it basically started with me sort of putting a band together with trumpet, cornet, horns…I liked Reel Big Fish and wanted a band with horns essentially, and Andy was the only guy I knew who could play the trumpet, but now he plays keyboard.  Basically the sound developed as we got more members, Beth was the next to join I guess of this line up…
Beth: Nearly two years ago now…
Dan: And Arran we found on the internet,
NN: Like an e-bay item
Dan: Yeah basically (laughs)
Arran: It's been nine and a half months,
Dan: Switchboard started in 2007 April so it's been four years,
NN: You've had different members come and go, did they just have other commitments?
Dan: It began with other commitments sometimes, other times it would be they didn't think they had other commitments but they did. They just weren't putting the time in and stuff. Eventually it became a mutual thing like "actually I can't do the band", everyone left on reasonably good terms,
NN: Is that hard?
Dan: It's hard.  A lot of the time people aren't willing to put the same sort of effort in. It becomes a grate really and holds you back.  But I mean it wasn't just a case of a little bit of effort – it was the fact we couldn't gig, we couldn't practice, you just ether want to do it or you don't…
NN: How would you describe your sound?
Beth: At the moment it's got more rocky hasn't it..
Dan: It's developed over the years because we use to be like a new metal band (laughs) and then we became a lot poppier
NN: Like Limp Bizkit?
Dan: (Laughs) Yeah…not quite, we didn't have the rap and stuff but the guitars and drums were a bit like that.  And then Switchboard sort of formed – through my early influences like Lost Prophets, they were a heavy influence…
Beth: It was quite pop when I joined…
Dan: Yeah it was very indie-pop for a while and then Beth joined and we had other members who rocked it up a bit which is originally what I wanted to do: play in a rock band, but we sort of drifted off to the pop side thanks to members who wanted to make poppy stuff.  But now we've sort of got a nice balance of the two, I'd say it's catchy-rock…
Beth: Rock pop's the easiest
Dan: Yeah but not pop, I hate the term pop because it's so general, and not to put your question, down but I hate the whole genre thing because people always ask us what style we are and it's like 'I don't know' I can never put it down because we grab so much from so many places..
Beth: Different songs are different aren't they.  Take What You Want is the rockiest then we've got Like I Need You which is really indie pop
Dan: I've always wanted to write different styles of music in an album, bands get stuck in a rut of having their sound but I wanted it to have a varying sound running across the album, not hugely, but that's what I've always wanted…
NN: What bands made you want to start playing?
Beth: It's different for each of us.  That's where we've got our Switchboard sound from because all four of us are into pretty much completely different stuff…
Dan: Yeah, Andy's into mainstream dub-step, not just that he loves Kings of Leon to bits..
Beth: We've got mutual bands that we all like, like Foo Fighters and Kings of Leon,
Dan: Yeah, and I do like a lot of the older stuff which is what started me playing, and you (Beth) like and that,
Beth: Yeah grungy stuff and some metally-screamy stuff,
Dan: Yeah the big ones that come out are Foo Fighters, Incubus were a big one of mine, Lost Prophets, Reel Big Fish…
NN: All sort of mixed together?
Dan: Yeah, and that's what comes out as well.  It's weird, it's that with an edge of 2000 indie…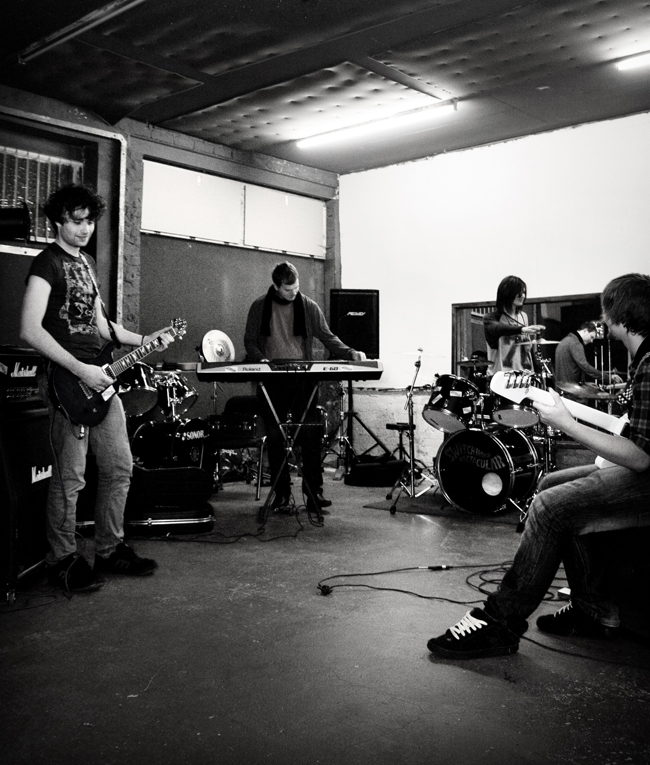 NN: So who writes the lyrics?
Dan: That's me, mainly me.  Lately we've been getting input from everybody else.
Beth: I did a few words, once (laughs)
Dan: That's what I mean, I always struggle – not with words, but I struggle to come up with topics,
NN: Hows the writing process? Do you have a riff and think "this would go well with these lyrics"?
Dan: That's how I use to write but now I've started writing down ideas for lyrics and trying to fit the words,
Beth: It worked well for Sympathy where me and Dan got an idea of what wanted to sing about,
Dan: Yeah and it was easy to write words then because I had a topic. I always struggle to get that good topic, which I think is what half the battle is
Beth: I think with writing some of the others we had the music and we didn't really know what to sing about,
Dan: We'd have a good tune and it wouldn't be as good as I'd hoped it would be because I couldn't quite get the lyrics, but it's getting better.  Collaboration's becoming more of a key element.  We use Drop Box a lot to push ideas around, so I'll save a lyrics file and then Beth will write it…
NN: Song writing in the internet age…
Dan: Yeah, that's what we do.
NN: You've played a lot of gigs, how many do you think you've played in total?
Dan: I've played 300, maybe more than that. Less than 500 but getting towards that, I've played a lot of gigs,
Beth: Well I've been in the band two years and we've  done a gig every two weeks, so however many that is.  It varies because we might go six weeks without playing one and we'll try and write stuff and then we'll have…
Arran: …Four in a month or something.  I've done about thirty…
Dan: The band's played a lot.  We use to gig every week.
NN: Do you still find it fun, or is it more like work?
Dan:  When we play a gig and it's a good gig, it's brilliant,
Beth: It totally depends on the gig because when I was first playing with them I'd be like "yeah a gig!" and then we'd end up in Blackburn in midnight playing to my mum and I'd be like this is shit…
Dan: But when you play gigs like Ash, where there's five, six hundred people, it's sold out and everyone fucking loving it, it's not a job then…though I'd like it to be a job…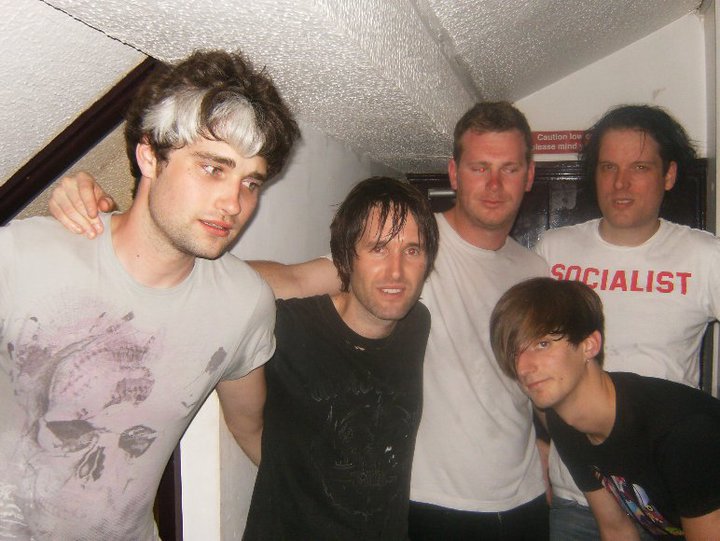 NN: How did Ash and your other support roles come about?
Dan: Ash was a competition originally. Well, not a competition in the sense that you had to get people to vote, it was like you submitted your music to Ash and they picked who they wanted to support and they had a different local band support them for each gig on the tour so that's what we did.  We didn't expect to get it to be honest and then we got a thing saying do we want to play Barrow-in-Furness and we said yeah.
NN: What 's your favourite place to play?
Beth: I like playing Manchester, I like Moho when it's good, when we're playing the main stage on a decent night, I dunno, it depends…
Dan: The Nines in Barrow when we supported Ash was amazing, the venue was really good
(Trumpet player Andy Palfreyman strolls along, joining the convo fashionably late…)
NN: Andy? Favourite place to play?
Andy: Blue Room Blackpool…our home town (laughs)
NN: Arran?
Arran: It would of have to have been Moho.
NN: You released and EP last year…Do you think that you've changed since then?
Dan: No not really…a little bit.  We put Like I Need You Out and then we put out the Entertainment EP and they were quite contrasting but now the new stuff we're writing is inbetween those two,
Beth: I think the EP is a good summary of what we're like and what stuff we want to continue writing,
Dan: We've taken so long to put another one out because we just want it to be good.  We're taking loads of time being critical about what we're writing rather that putting stuff out quickly, we're just like "lets make this good"
NN: How much thought do you put into picking the tracklisting for the EP?
Andy: They just fit naturally,
Dan: I mean, we do gig the songs before we record them, some bands don't do that, they'll just record, put it out and tour it, whereas we'll do it and see what works in a good order,
Beth: With Entertainment we all knew what four (tracks) we wanted on.  So we had two new ones, kind of heavier, more rockier ones, then we had the other two that were more indie-pop so it worked well as an EP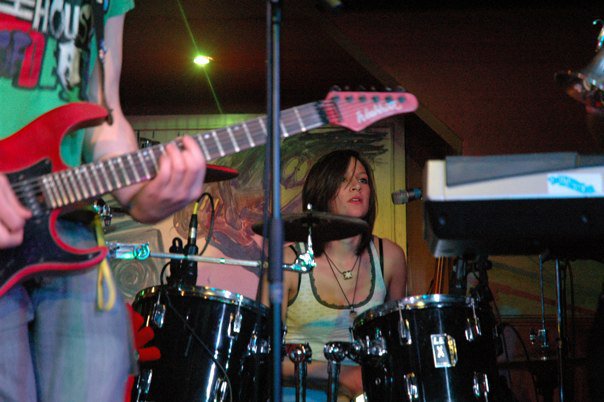 NN: Do you have any plans to record again soon?
Dan: Yes. Summer, I  think we're nearly there writing wise…
NN: How many new tracks do you have?
Arran: About two and a half,
Dan: I was hoping to put four or five on (the new EP) and I'm hoping to get it out in summer.  We're going to try and record somewhere like a church because the last one is quite an electronic, dry kind of sound and I want to have it a bit bigger, more raw sounding, a bit more live.  Because that's what we're trying to do: get the sound good live.  So hopefully we'll have something out by the end of this year.
NN: You've just coming back from Snowbombing, how did that come about?
Dan: It was a thing I saw on Gigwise, it was a competition so I clicked it and entered us into it. And then we were entering Ready To Rumble in Preston and we were waiting for an email back from that when we got an email saying we'd gotten through to the final 20 for Snowbombing in Austria.
NN: Something you didn't have to put too much work into?
Dan: Yeah, well we submitted our tracks and then it was judged and we had to get people to vote and then we got through to the final four to go to Austria
NN: Did you urge your fans to vote?
Dan: Yeah basically, how many votes was it we got? 16,000 for the whole competition and there was only 20 bands
NN: Did you get a lot of perks?
Dan: We got in VIP…we met those guys from Hollyoaks…Max and Obi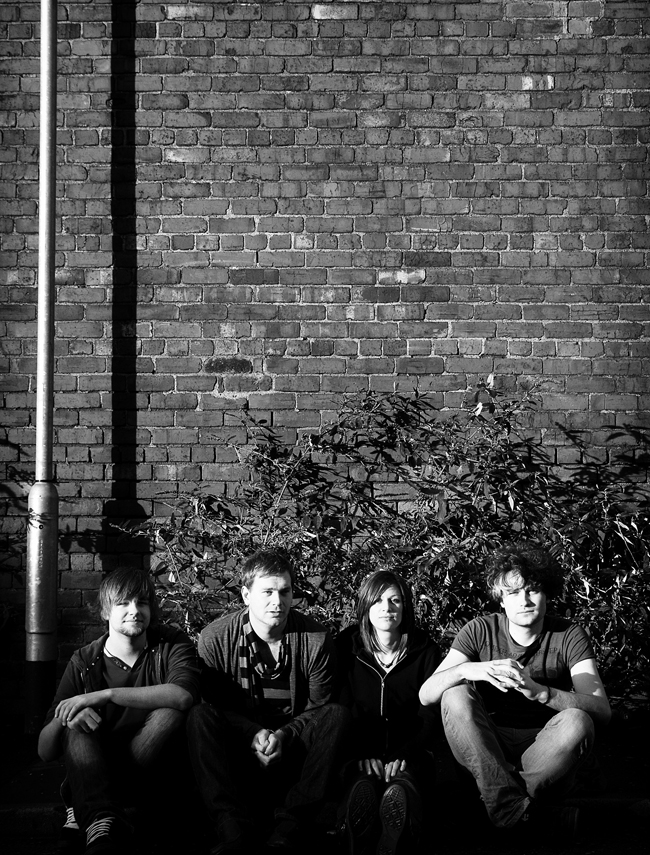 NN: How did you find the final?
Dan: The bands were good that played
Beth: Because we played on the last night by the time we were on stage ready to play we were just shattered,
Dan: Prodigy were on the same time as us too..
Beth: It was really good experience though..
Dan: We didn't get a great deal of contacts but it taught us how to be at that kind of thing and it was good experience for us
Beth: It's just an achievement in itself that we got that far
NN: What do you have coming up this summer? Festivals?
Arran: We've got one for charity in Leyland of all places in summer,
Dan: We've got three gigs in May, Milo in Leeds, Weekend Warm Up and Moho live supporting Max Raptor.  But yeah we'd like to play more festivals…
NN: So what's the best place to get more information on Switchboard Spectacular?
Dan: Facebook or SwitchboardSpectacular.co.uk, Facebook's the best place to keep up to date with us but I'm sorting out blogs and stuff.
Andy: There's a link on the page for the EP
NN: Cheers guys!
You can also keep up to date with Switchboard Spectacular by visiting their Myspace page.