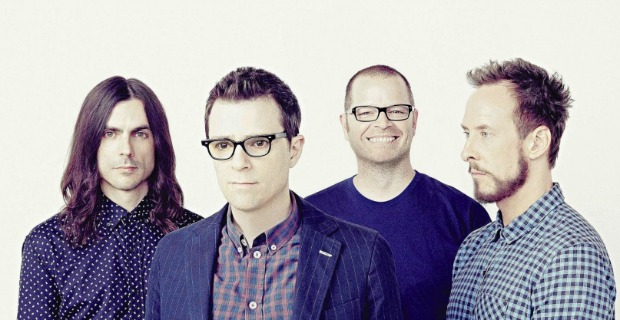 Weezer haven't been in Manchester in over a decade. That's ages. With this in mind, it's understandable why tonight's show at Manchester Academy – one of just two UK dates on the band's world tour in support their sparkly new white album – sold out almost immediately. Rivers Cuomo and co are long overdue a night in our neck of the woods and tonight's rabid audience know it all too well.
Greeted with booming chants and countless waving 'W' hand gestures, the band start as they mean to go on with dreamy punk track and new album opener "California Kids". Illuminated by the pulsing light of their giant glowing logo, the LA quartet then reward patient Mancunian fans with a double-punch of high-school classics "My Name is Jonas" and thudding green album anthem "Hash Pipe". This opening gambit of old and new sums up tonight's career spanning cocktail of a setlist quite well, with the band offering more of a greatest hits show than an advert for their new record.
That's not to say newer tracks aren't aired and welcomed with open arms though. Beachy ballad "L.A Girls" gets the crowd swaying in their converse while "Do You Want To Get High" showcases the band's more introspective musings. However, of all white album tracks played tonight it's debut single "King of the World" that receives the most love from fans; its catchy pop-punk refrain reminding audiences why Weezer rose to the cream of their genre in the first place.
In between new material, Cuomo and the band offer up a smorgasbord of back catalogue hits. Pinkerton fave "El Scorcho" is followed closely by the red album's tongue-in-cheek middle finger to the music industry "Pork & Beans", with Raditude's "(If You Were Wondering If I Want You To) I Want You To" getting a thousand toes tapping in unison. Although it's the older tracks that turn things up to eleven, with "Say it Aint So", "Island in the Sun" and "Undone – The Sweater Song" leaving Manchester woo-ing in the darkness as the band briefly escape backstage.
They quickly reemerge, dusting off "Beverly Hills" and quintessential Weezer track "Buddy Holly" as tonight's two song encore. In between, they look slightly taken aback by the crowd's deafening chants and eagerness for them stick around. Maybe next time they won't leave it so long before paying us a visit.
Words by Simon Bland (@SiTweetsToo).
Keep up to date on all the latest Northern entertainment news by following us on Twitter, Facebook and Google+.