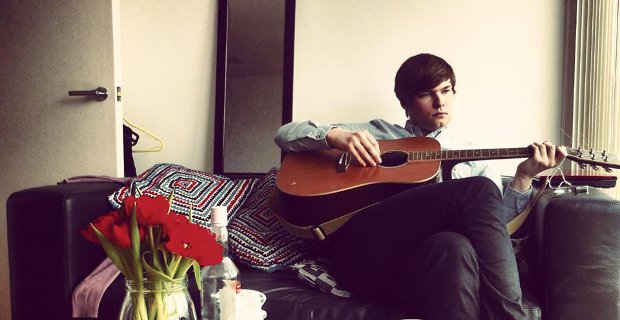 In this feature we simply ask an artist, 'Why the hell should we care about you?!!!!!!!', then let them defend themselves briefly before we judge them mercilessly at the bottom of the page. Today it's the turn of acoustic performer Scott Lloyd to tell us why he's great. Let us know what you think of him in the comments…
Members:
Scott Lloyd – Acoustic Guitar, Harmonica
What He Has To Say:
Hey, I'm Scott Lloyd – born and bred in the North East town of Middlesbrough and now living in Manchester. I'm a singer-songwriter who is massively passionate about music and song-writing. I've been writing music for years and have been part of a lot of bands; its only recently I've been going it alone. And if I'm honest, I prefer it that way. My music is a very truthful expression of what I think about stories from my past.
My idols are singer-songwriters like Neil Young, Bruce Springsteen and Simon & Garfunkel, to keep it short. I love the idea of one person telling the world what he or she thinks through their songs. The power behind one single person and an acoustic guitar, singing a quaint, simple tune, just clicks perfectly with me – and that's what I try to do.
My tunes aren't massive, full blown, over the top, expensive productions. They're honest, down-to-earth songs that people can relate to; songs that I love to play. There's no point in trying to be something bigger than you are because people will see it instantly. It's better to be yourself, and that's what I strive to do.
My gigs are enjoyed by everyone as a chilled out, intimate affair. My more upbeat tunes add light and shade to my slower ones, and it works well. The two best things about being a musician are writing a cracking song that you're proud of and playing a great gig to great people, knowing that they have a strong idea of who you are and what you're about. It's ace.
I'm hoping that 2013 will be a good one. I'm grafting away on my music and working harder and harder to get out there and show people who I am. My debut EP is out now too. I'm just buzzing at the moment and can't wait to get moving.
What We Have To Say:
To us Scott Lloyd is one of a growing number of emerging acoustic acts – Stefan Melbourne, Kiera Lawlor, David Strafford et al – who seem to be playing every night in Manchester. It's like they're on the tiniest tour ever – Deansgate to the Northern Quarter, then, perhaps, one show as far as…. Salford! Scott even played three nights on the trot in the same venue according to his live schedule. Soon it's going to pay off and one of these fledgling acts will break out of the city for good.
He recently self-released debut EP 'Long Live You', and at the risk of mimicking Larry David without the intended comic effect, it's pretty… pretty… pretty good. From the first 'That's Entertainment' Jam-like jangles of opener 'Streets Are The Colours', we're enjoying DIY roots music with lofty lyrical ambition. It might all nearly fall apart while he's singing about 'making love on the kitchen floor' and struggling to reach the high notes but there's an endearing charm. It's an EP with depth – latter track 'I Found You' is exceptionally well recorded for a self-release, and closer 'Lone Wolf' is the best thing on there. It's sentimental, with doleful howls and tender string picking.
So yeah, he's gigging everywhere in Manchester, probably five minutes from your house if not doing an impromptu set in your lounge, the least you could do is go and listen…
Words: Simon Butcher (@sbutcher1)