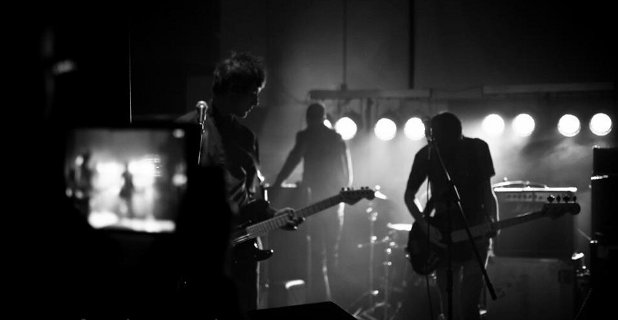 There's so many bands out there vying for your attention, but why should you care about any of them? Well here's a feature to explain exactly that. We let each promising northern band we come across speak directly to you and sum up what makes them so special. We then give our verdict below, but share yours in the comments section.
Today it's the turn of Manchester three-piece Velocets… 
Band Members
Adam Walsh – Vocals/Bass Guitar
Elliott Berriman – Vocals/Guitar
Dom Allen – Drums
What They Have To Say
We're Velocets, residing in the humble city of Manchester: wanting  to cause a noise and get people moving! Considering we formed around mid-march in 2012 we've already had the opportunity to do some amazing gigs, and we wouldn't be able to do that without knowing how to craft some damn good tunes!
Being a three piece we feel we have no safety net of a rhythm guitar to help carry songs along. But this drives us to keep the energy in massive basslines and catchy guitar hooks you can't help but enjoy.
It's a regular thing for bands to say that what they do is completely original and unheard of before, but we've never gone with that ethos. We just write what we would like to listen to, as if we ourselves are an audience – and that's done us well so far.
We've been told by many that our stage presence drives our sets, and that's due to two things, one: wanting people to walk out of our gigs feeling something and two: because we actually enjoy what we do, and that shows in a big way. No shoegazers onstage here!
2013 is looking to be a massive year for us. We're supporting Orphan Boy at the Ruby Lounge on 9th March, and its only gonna get better.We're not too into talking a big game as we prefer to let our songs do the talking, but we started as a band with one goal, and that was to have the world, and we're not gonna stop until we've done it.
We're Velocets, and if you don't care about us now, you will do once you've heard us!
What We Have To Say
It's good to have ambition, and here we've got a youthful indie band looking to 'have the world'. With the same objective that's inspired North Korea to road test a nuclear bomb we're happy to say there's some explosive choruses rooted in Velocets' nascent indie gems. It's not quite dynamite yet, but there's no denying 'Tell It To Your Kids'' shout-along lyrics and 'Naked's slow-building anthemic quality are a sure sign of something special…
Words: Simon Butcher (@sbutcher1)