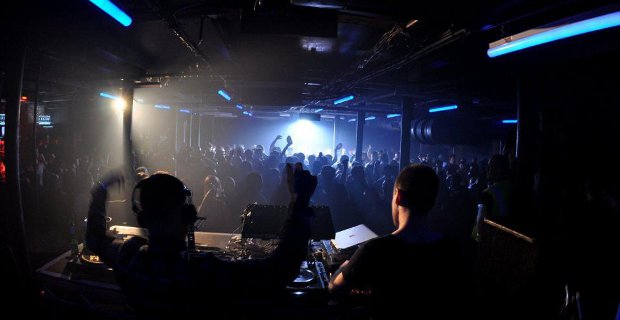 We're not exactly aficionados of electronic music here at Northern Noise. Lets just say it took us longer than most to realise why The Warehouse Project does a roaring trade in bottled water. But we genuinely do admire the innovative sounds and unfathomable array of genres being created by producers around the world. So today we're exploring the scene in our own city and asking Winter Son why you should care about him…
Download the above track for free
Members
Tom Ragsdale & Jozef K (Turntables, TR-808 Drum Machine, Drum Pads)
What They Have To Say:
We were brought together through a passion for old Chicago house 12″s, goth rock and hazy warehouse techno, and started making music during Autumn 2012 in a dimly lit studio jammed with analogue synths and drum machines. Winter Son also plays in Manchester based electronica band Ghosting Season, and Jozef K is the chief resident DJ at Sankeys nightclub, so we're definitely firm regulars amongst the Northern dance music scene!
Our music is massively influenced by the likes of Skudge, John Talabot and James Holden, as well as the ethereal sounds of Bauhaus, The Cure, and Fever Ray. We like to combine all of our influences and don't see why there should be any boundaries when we write and produce.
We put a huge amount of energy into our live show with an emphasis on performing as much as we can. The live set consists of drum pads, a battered 30 year old Roland TR-808 drum machine, and a record bag full of acid classics and brooding Detroit techno rarities! There's a lot of improvisation involved as we like to jam around with percussion and interact with the crowd. We usually just start with a beat on from the TR-808 and then take it from there!
Our studio consists of some very cool (and some secretive) toys and bizarre pieces of equipment, most of it way older than us! We have 2 synths from 1973 (one which is labelled the 'goth machine')! Our sound comes from the unreliable and unpredictable tendencies of the machines; we turn everything on and hope for the best! We also have a late '70s Guild acoustic that's made it onto a few recordings.
We have our debut EP coming in Summer on Sasha's label Last Night On Earth, which we're both incredibly excited about and humbled to be associated with such a legend of electronic music. It's layered with soul destroying bass, harrowing reverb drenched atmospheres and sinister kick drums; combining old school methods with our own unique techniques. We aim to continue this strange and wonderful approach into our full length album later this year.
What We Have To Say:
 Despite not being fully up to speed (128BPM) on our electro we were absolutely massive fans of Ghosting Season's debut album 'The Very Last Of The Saints', when it came out last year. It's an incredibly dark, eerie, and enchanting record, sounding almost as if Mogwai had made the soundtrack for Zidane's funeral to follow up their earlier portrait of his career. It's good to know then that Winter Son has kept his 'goth machine' for the new project, and 'Silent Shout' (above) is a surprisingly life-affirming slice of techno with minimal sensibilities that give way gradually to a crescendo of glistening keys and ethereal howls. All the epic atmosphere we'd expect is still there and so too is loved-up dancefloor appeal. Can't wait to hear the EP.
Words: Simon Butcher @sbutcher1