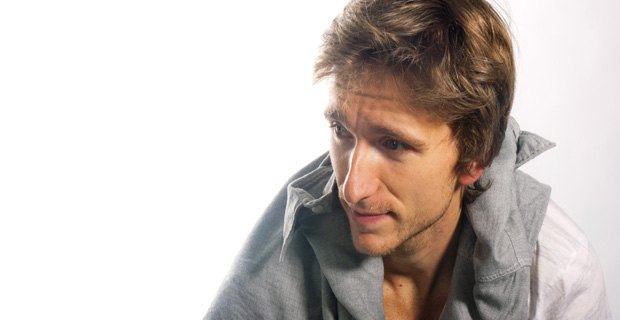 It's nearly time for our next Northern Noise Live event. This month we've got a few tricks up our sleeve that are guaranteed to blow the ornate roof of The Castle Hotel's intimate live music venue. Before then however, we'd like to introduce you to a multifaceted musician by the name of David Ward. He's the man charged with the job of kicking off next week's show, something that we can't wait to check out. We sat down with Ward to discuss his career, musical style and influences. Enjoy!
When you arrive at this month's Northern Noise Live you'll be quite far from home. Can you fill our readers in on a little bit of your history, where you're from and how you came to arrive at Northern Noise Live?
"I am from Vancouver, BC Canada. I've been writing songs since I was 13; graduated from theatre school and have a deep love and respect for all facets of the arts; toured Canada a few times now and headed out in September again; first overseas tour was in Japan; this is my first tour in the UK; I run a concert series in Vancouver with a few partners called Wachu with the foundational principles of community, collaboration and good music; I am certified in pet first aid and able to accurately perform the Heimlich on a dog or cat – not a joke.
I came to Northern Noise through the magic of Google. Everything in my career at this point is done as an independent so booking an overseas tour is a bit of a crapshoot. I'm lucky I ran into such a solid group of people at Northern Noise and even luckier I had someone help me book half of this beast – documentarian Jeanette Wilkinson from Redbud Films who is accompanying us on this tour and making a film that compares and contrasts the UK/Canada independent music scenes, finding out where it is alive and well."
How would you describe your music to newcomers?
"Somewhere between art rock and soul."
What's your earliest memory of music?
"Glen Miller orchestra on my dad's turntable and my mom's cassettes of Goofy's Disco Music and Michael Jackson."
What one song (if any) convinced you that being a musician is what you wanted to do?
"Oh boy. I can't think of any one song. There have been a number of different songs throughout my life that have opened up my mind or heart to varying possibilities in music and lyrics. I suppose soundtracks is one of the places I started discovering music and getting hooked."
Has writing and performing music always been something that appealed to you?
"Definitely writing music. I have always been in the performing arts but in music, performing started as an 'Ok mom, turn around and don't look at me while I play you this new song.' Kind of like Robert Johnson but without the underlying fear that my mom was going to steal my licks."
Where did the idea for your new three part EP The Arrival come from?
"It came out of a number of things. I was inspired by an incredible graphic novel by Sean Tan called The Arrival about the strange and terrifying curiosities/adventures of fleeing a war torn country to make a better life for ones own family.
I also had a few friends going through some increasingly frustrating immigration sagas.
I am continually interested in this idea of a universal yearning for an arrival and what the definition of an arrival is – how it shifts from one person to another. Is it something we ever achieve? Do we want to achieve an arrival? How do you measure the scope of an arrival? What different kinds of arrivals exist?
Lastly, my sound is fairly varied and I wanted to create a cohesive way of sharing it."
How was the writing process? Did you know what sound you wanted to capture when you went into record?
"The writing process of it was very spread out. The idea of the EP trilogy came a little later in the process so it wasn't something where for every song I was trying to fit it in the mold of one of these EP's. The EP's, both lyrically and musically, seemed to fit together without me trying too hard.
I had fairly different sounds in my head for many of the songs. I wanted songs like Joy to be a little more stripped back and Motown sounding than songs like No More Troubles Under the Sun which I wanted to feel a little more heavy and glitchy. A lot of what I had in my head for this record wasn't attained on it but that's why you keep making them."
What was it about the stages of a journey that inspired you?
"I don't know. I guess the shifts in your mental space at each stage is something that inspires me. And recognizing that there are stages or points that can be recognized, appreciated and or marked for varying reasons; stages that can be swallowed up when we become to consumed with end goals. We've all made a point on this tour to mark each occasion. Things can pass you by so quickly if you don't take the time to recognize the moments."
What influences you?
"Innumerable people, places and things. Heart, vulnerability, an attention to detail."
You traveled to Ghana to study West African Rhythms – how was this experience and how did it effect your music?
"It was incredible. It made me think of music differently; as something more communal. It was also a healthy exercise for my brain, splitting it into different parts to play all of these foreign, polyrhythmic patterns. I also studied highlife with a guitar teacher who helped me with my finger picking."
You've toured quite extensively. What do you enjoy most about touring?
"The adventures: being able to connect to new crowds, meet new people, explore new places."
Our Northern Noise music hall at The Castle Hotel is something special. From casinos to bars – where's the most memorable place you've played?
"The one we just played at the Castle Hotel in Manchester with Red Balloon was pretty memorable."
What have you enjoyed the most about being in the UK?
"The people, the hospitality, meeting the man who leads our PR, playing venues where many of my heroes have tread ground…the list goes on."
What do you have planned for after you complete your UK tour? What's next?
"We've got a cross Canada tour coming up in September and we are aiming to come back to the UK, as well as start exploring Europe, in the new year. I'm also in the midst of writing and putting together my thoughts on the new record."
Check out David Ward's very own personal playlist on our Northern Noise Backstage page. Buy tickets for Northern Noise Live here.
Words and interview by Simon Bland. (@SiTweetsToo)
Be sure to 'Like' us on Facebook and follow us on Twitter to keep up to date on all the latest Northern music news!