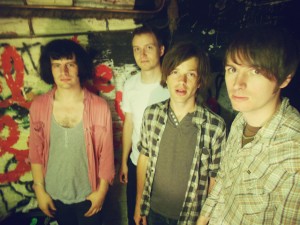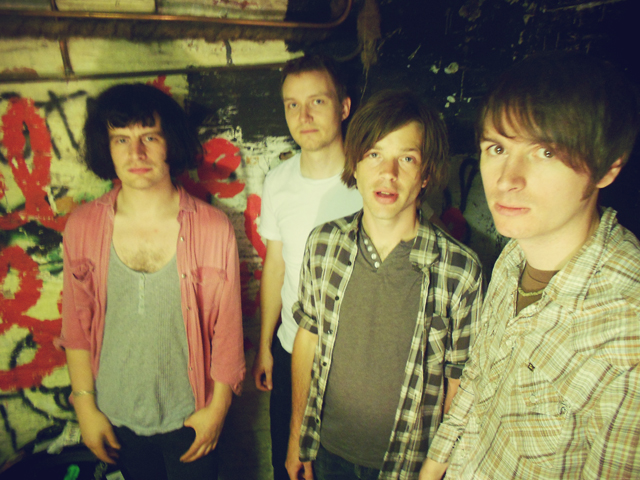 "Lots of volume…", that's what Nine Black Alps frontman Sam Forrest promises to deliver at next week's very first Blackpool Northern Noise Live show and our final gig of 2012. This week we've offered you a smorgasbord of Nine Black Alps goodness to get you in the mood for Monday's show. First, we had the band compile their very own Personal Playlist of their very favourite tracks. Second we gave you the chance to stream the band's brand new album Sirens live on the site. Now, to finish things off we've nabbed Sam Forrest for a quick pre-gig chat to find out just what kind of year he's had and whether or not he's been to the top of Blackpool tower… All will be revealed after the jump. Enjoy!
Tickets for Northern Noise Live: Nine Black Alps w/ Goonies Never Say Die & Kraul are available here.
So you guys have been away for a while. What have you been up to?
"Combination of writing and recording our latest album 'Sirens', took three months to write, three months to record and about half a year to mix! Apart from that, we've been busy doing other jobs and other music. David plays live guitar for The Cribs, James runs his own company and I have my own solo project and am in another band called The Sorry Kisses and I record other people too. And Karl is our new bass player, he replaced Martin who left to form Milkmaid a couple of years ago."
How did it feel returning to Nine Black Alps?
"Feels really good to be making a loud noise together again. We all live in different cities so is nice to have an excuse to see each other too. It's just good to get back into a practice room and make that sound again, couldn't do it with any other people…"
Has it been easy getting back into band mode?
"Surprisingly easy. The music we play is pretty instinctive and simple, it didn't take us too long to record the album. And Karl has been very quick to pick up the bass parts. We've got no management now so are having to sort everything out ourselves which takes a bit longer but is good to be in control."
You recently completed your first tour in about 3 years and now you're back on the road again. Is touring life any different to what it use to be?
"Yeah we used to have road crew and tour buses and stuff but now it's just the four of us getting lost in strange cities and trying to find somewhere to park. It's kind of nice to know that we can all be self-sufficient and are responsible enough to not fuck up a tour!"
Do you think it's harder or easier the second time around?
"It's easier because you know what to expect and you're less likely to get reeled in by people's bullshit. Although at the same time it's harder to keep it going because you know that there is no glamour involved in being in a band."
You guys don't have a manager. Is it fun being your own boss?
"Kind of. It's good to be able to plan what you want to do and how you want to do it without anybody else's interference. The only drawback is that you spend a lot of time chasing up emails and also it's sometimes good to have someone around who isn't in the band to give us a kick up the arse."
Tell us about your new album Sirens, how was the writing process?
"Writing process was pretty easy. I found that I wanted to make loud guitar music again for the first time in a couple of years, so went out to this outbuilding I have in the middle of winter, wore about seven layers, pressed record on a dictaphone and wrote a bunch of riffs and words that seemed memorable. I wanted it to be pretty direct and not too complicated."
Did taking time off affect how you approached writing a new album?
"Yeah I think it gave me more of a hunger for it, in a way that was fairly natural, in that I was so eager to start recording this one. Whereas some of the others felt like the pressure was coming more from outside of the band which is a different thing."
Did you have a wealth of material waiting to be developed?
"Not really, just about thirty songs that we chose our favourite dozen of. Any more than that then I'd be just writing the same song but in a different order."
How do you feel fans have reacted to the album?
"Seems that people like it. We always get about half of the people who know us asking 'Why doesn't it sound like your first  album?' but they can always go and listen to the first album, I don't want to redo that and wouldn't be able to anyway. But most people seem to be really happy that we're still doing music, it's nice to feel wanted."
We're well excited to be seeing you guys in Blackpool. When's the last time you visited?
"I went there for the first time ever in March 2012. I played a solo show at the Blue Room, I remember it being pretty messy!"
Have you been on the Big One at the Pleasure Beach?
"Never. What's that? A rollercoaster? If it is then book me a trip on it please, I need waking up."
What about the Tower, have you been to the top?
"Never. Again, buy me a ticket and I'm there."
What can we expect from your Blackpool show?
"Lots of volume, noise, short songs, energy, unprofessionalism, hair."
Can we expect a new album in 2013?
"Yeah hopefully, it's mostly written I think. Just need to find a time when we can all get to do it."
And finally, it's nearly Christmas. What's the worst present you've ever given AND received?
I like to think I'm pretty good at giving presents, like to give people what they want but didn't know they wanted it! Worst present I received was some kind of build-your-own-bird kit when I was young, I didn't really appreciate it then, but would give it a go now!"
Nine Black Alps play for us at The Tache, Blackpool on Monday December 17th. Tickets are available here.
Words and interview by Simon Bland. (@SiTweetsToo)
Be sure to 'like' us on Facebook and follow us on Twitter to keep up to date with all the latest Northern music news!