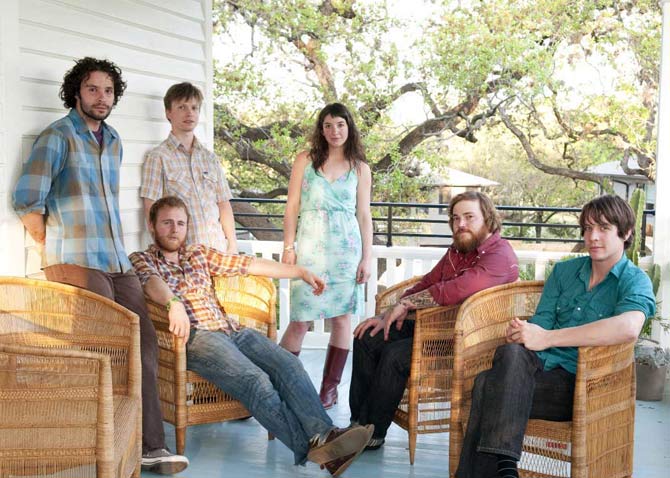 Generally speaking, big cities are noisy places: traffic, crowds, the constant hollering of ticket touts…Manchester's Oxford Street is no exception.  However, on this night, lying right in the center of all this hustle and bustle there is some solace to be found, all you have to do is walk away from the busy pavement and into the Academy one building. Once inside, you'll find a 500 strong crowd, but one entranced into silence, mesmerised by the calming tones of Portland's Blind Pilot.
As the six-piece take to the stage ready to kick the night off before The Decemberists' play their headlining set, they bring with them an air of ambience that quickly infects tonight's Mancunian audience.  Bike tours, impromptu busking, storming the iTunes chart -Blind Pilot are a band who have seen it all in their relatively youthful career, and as such,they carry with them a stage presence beyond their years.  Tantalising listeners with sneak-peek performances of newer songs like the folksie 'Get it Out', the band fully utilize their recently expanded line up, packing more of a punch than what can be found on their breezy 2008 debut 3 Rounds and A Sound.
The harmonizing vocals of front-man Israel Nebeker float effortlessly throughout the rapidly filling venue during album-title track '3 Rounds and a Sound', instantly snaring all late comers.   Standout track 'One Red Thread' really comes to life on stage with Ryan Dobrowski's rapid drumming and Kati Clabom's added banjo, quickly followed by an instrument switch-around, one of the many perks of the band's recent influx of musicians.
An energetic performance of 'We Are The Tide' closes up their all-to-brief set tonight. In the blink of an eye the band turn their sound from a calm sea to a tribal storm using pounding drums, xylophone melodies and piercing trumpets.   Soon after Blind Pilot leave the stage the crowd snap out of their subdued trance and the peace is gone, at least until the next time this Portland folk-pop troupe roll back into town.
Blind Pilot are still in the UK check out their upcoming tour dates here.  Earlier in the week we chatted to the band's drummer Ryan Dobrowski, check that interview out right here.