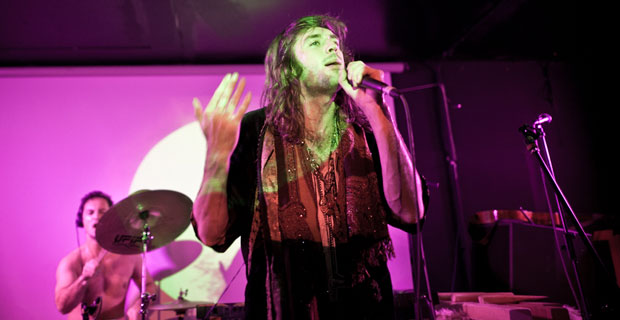 Manchester is strongly linked in the minds of many to a golden age, from post-punk to the birth of Acid house, before going on to assert its dominant swagger on the world stage with Oasis. Few places have such a heritage to celebrate, but the city has an unbelievably modern feel too. Walking through the centre an eye catching glass structure known as the Urbis shimmers brightly in the sun, while scores of people enjoy an equally glistening beverage in one of the many fashionable bars. Even The Hacienda has been converted into a slick, contemporary, apartment block. The iconic building's spirit and that of the festival's co-founder, Tony Wilson, are shining vibrantly too with In The City.
This three day event is a northern SXSW, showcasing the brightest emerging talent on offer in front of music industry delegates and savvy members of the public. 2010 sees the Northern Quarter, a cultural and creative hub with lots of venues in close proximity, being used as the main hosting space. This relocation along with the recent resurgence of Mancunian music over the last couple of years has heightened the sense of civic pride. Dutch Uncles, D/R/U/G/S, Egyptian Hip Hop, Is Tropical, and Working For A Nuclear Free City, all performed in their home.
Wednesday got things going in fine form with previous Qthemusic Track Of The Day act Foreign Office performing as part of the ITC unsigned, a side of the festival still pushing the core value of trying to break emerging unsigned talent, something increasingly hard to accomplish as the term unsigned begins to lose it's previous connotations.
Elsewhere Dalston's Male Bonding roused crowds with material from their debut Nothing Hurts. Manchester duo Brown Brogues began the first of their two dates and fellow city dwellers, The Steals, entranced those who attended with Jayn Hanna's smooth vocals drifting around the venue.
As the first night closes one of the great things about an event like this is that despite a drop of rain no-one is worried about walking back to a flooded tent, only to find when they do get there that someone else is inside it. Some of the toilets in these venues will however remind you sharply that this is still a festival experience.
During the day delegates debate about all things industry, how do bands make money in an age of creative destruction? Is blogging the way forward? Is it ok for acts undertake pay to play deals? Amidst the conferences, while getting lunch the music began a little early for Q when stumbling across a busker who looked remarkably like Liam Gallagher but sounded unfortunately similar to Joe Pasquale. Despite the tinnitus inducing voice he didn't seem to be having any problem making money, with a guitar case coated in silver coins.
The night's music began in a soup kitchen, not because we gave all our money to a busker but because Thomas J Speight and Misty Miller were on the bill in this small space. Speight serenaded the crowd, some holding soup, with songs from his latest Willow Tree EP. The youthful Miller then excelled with a ukulele and her uniquely delivered introspective lyrics.
Next up recent New To Q New Yorkers The Pierces performed in the dimly lit atmosphere of The Mint Lounge. As heads nodded and feet tapped along the sisters confidently asserted that the passion was still inside them despite previous break-ups.
The next venue visited is one of the most historic in the city. Band On The Wall has been a live venue in one form or another since 1709, previously famous for having bands literally playing on a wall with a raised stage. Despite having closed in 2004 for repairs the space still has preserved as much of its Victorian décor as possible. An antiquated balcony is the perfect location to view one of the most talked about artists in recent months, D/R/U/G/S.
The duo behind this pseudonym claim links to both Manchester and London, with a member from each, their eclectic mixture of chilled dance music has seen them draw massive interest despite only having uploaded their first beat to a myspace around six months ago. A support slot with Salem awaits them in November.
Crystal Fighters took to the stage to headline in the previously New Order owned, Dry Bar, a venue which has retained Ben Kelley's iconic design. Their genre fusing material had the audience bouncing frantically. Frontman Sebastian may have been clad in an MGMT outfit, but he stormed around the stage sounding more like Zack de la Rocha during the set which fused electro and heavy bass with a reggae tinge. Xtatic Truth and I Do This Everyday were favourites as the group brought their debut Star Of Love alive.
Back at Band On The Wall London's Mount Kimbie, who have previously remixed for The XX and Foals, used an interesting array of samplers Kaos pads and even the odd guitar to create on the fly mixes of their previous experimental releases, as well as showcasing the upcoming Blind Night Errand EP to a packed house.
Ending the night with Is Tropical, another local act gathering momentum, it is great to see the influential city is still as energetic and lively as es ever before, with hundreds of music enthusiasts pouring out of diverse venues and into a less diverse range of kebab shops.