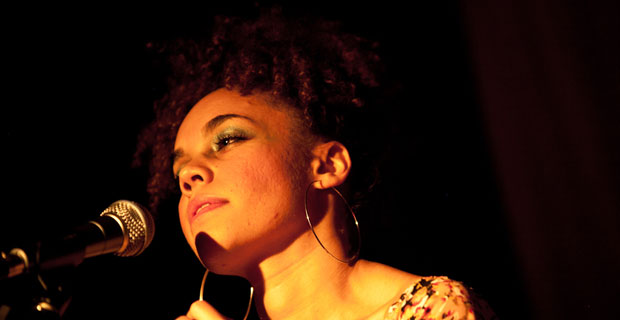 As the 19th year of In The City entered its final day there was still plenty of talent left on the lineup. The last night of festivals are usually spent trying desperately to stay awake in a field after two previous days of debauchery, thankfully here the things end on a Friday with people more than aware that the weekend is approaching and therefore no thoughts of retiring early enter into the equation.
The Northern Quarter is a hive of creativity, still retaining the urban grit which Factory boss Tony Wilson drew a sense of civic pride from. Here a semblance of the old city lives on, escaping the city centre's contemporary revamp. Outlets for entertainment are wall to wall in this ever growing area, some more adult than others. The odd enterprise with three x's less than discreetly placed above the door may not be too hidden away here.
Q began things in The Night & Day Cafe, a venue which worryingly has two neon x's placed above the entrance. Once inside walls coated in a deep red paint add to the sense of uneasiness, luckily the band playing on a stage in the distance were not a jazz trio, otherwise a different kind of clientele could well have been attracted. The only form of intimacy on display here however is derived from the audience and it's love of music.
The cafe is in fact one of the more prolific venues in Manchester, giving gigs to then emerging bands including MGMT, Glasvegas, and even Arctic Monkeys. A whole host of un-billed local talent takes to the stage while those inside nurse hangovers with a cup of tea or battle with an unadvised first pint. After a few rounds of tea the next venue we visit is Matt and Phreds, an impressive narrow jazz bar. Despite the smoking ban, imagining this place and its acts performing in a hazy, dim lit scenario is enough to transport you back to the jazz boom years.
After enjoying a confident, well-polished performance from The Hosts South London's Andreya Triana is next up, bringing her soothingly vintage vocals and transforming the atmosphere of the venue completely. "Tonight really brought out the best in me," admitted the Ninja Tune artist after her gig. "I just get up and do my thing really. I hope that it resonates with people."
By the end of her set she has jumped off-stage and had the crowd clapping along in unison to her unplanned encores. The title-track of her debut album, produced by Bonobo and released earlier this year Lost Where I Belong, gets the crowd moving. Triana explains why this song was chosen to represent the record. "I write about life and everything that's in it," she laughs, "people sometimes take for granted the emotion which goes into a CD. The back-story behind an album often gets forgotten about, the whole journey I've had to get here. Sometimes it's hard being a struggling artist, not knowing if it's the right thing I should be doing and not knowing how you're going to pay rent. I think I'll always be lost where I belong and striving to find my place in a certain sense."
Triana is not one for negativity though and after an overwhelming crowd reaction her life choices must feel vindicated. "I've always maintained that it's not about me coming onstage and being a singer but as long as I'm bringing positive vibes and people are leaving feeling a lot better than when they arrived then I am achieving what I set out to do," she modestly explains.
After the elegant fusion of jazz and soul in Matt and Phreds we decided to take in some UK grime with Skepta at Moho, but on the way we had a chance encounter with Terry Christian. Only in Manchester! "They did ask me to front it this year and be the face but I turned it down," admitted the ex-Big Brother contestant. Despite admitting he would have made a few changes if in charge Christian was very pleased with the way it had turned out. "The Northern Quarter is a good area but wherever it's held is it's bound to be good. The weird thing about Manchester is that tickets sell faster here than anywhere else in the country and always have done you can't argue with that passion for music," he explained.
Who was Terry's tip off? "Me going to see bands is like a buss man's holiday. I can't remember the last gig I enjoyed. It was probably in 1984 or something like that," he laughed. "When you've seen Bob Marley there's not much left that can impress. I saw a Northern Irish rapper called Jun Tsu the other day though. He was amazing. I was getting shivers up my spine and I'm 48!"
Notorious north London MC Skepta gave Moho a taste of his upcoming record, leaving grime behind and focussing on the mainstream. His latest single Cross My Heart is delivered with an aggression instigated by ambition.
After skanking the night away Dutch Uncles, one of the current groups on the crest of a new Manchester led wave of indie enthusiasm, played to a packed crowd in the Ruby Lounge and caused an impromptu mosh-pit in the process. The band's tightly structured melodies were a winner with Fragrant, their recent single, causing a frenzy inside the venue. Face In was another fantastic moment, bringing a falsetto hook to the home crowd. Is Tropical, another local act end Q's night. The group hiding away behind bandana's won't be remaining a mystery for much longer with South Pacific and When O' When helping to convert a room of onlookers into a legion of fans.
View Our In The City Gallery Here