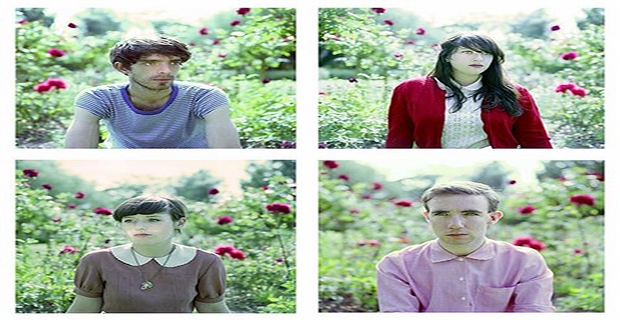 Last time Veronica Falls performed at one of Manchester's most loved venues, The Deaf Institute, they played to a grand total of 13 people. Then, they were merely a support act building up their fan base. And built it up they have, with the venue packed out and it's famous disco ball spraying light across the faces of the expectant crowd.
After being treating to earlier performances from Pins and Novella (who managed to draw much more than 13 people) everyone gives a warm applause to the headliners, with James Hoare's polka dot shirt catching the eye and commanding attention.
Here at Northern Noise we've previously described their sounds as  "bitter-sweet sounds of jangle pop" and that's pretty much what was delivered. While dancing and exuberance was not witnessed here, there was a fantastic rhythm to the whole performance with scents of flamenco and as a result there was swaying and nodding aplenty. Lead vocalist Roxanne Clifford swinging her guitar like a metronome, making her almost impossible to ignore.
We were treated to all of the best of their debut eponymous album including singles new (My Heart Beats) and past with Beachy Head and Bad Feeling standing out as some of their best work; the live element really adding something to the dark undertones of the lyrics.
All in all, this was a night in which Veronica Falls looked deserving of headlining such a prestigious venue. They played with confidence and poise, the cheers and shouts for an encore done out of choice rather than tradition. Always leave your crowd wanting more. They did.
Words: Daniel Savage
Like live music? We put on our own bands.