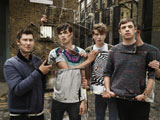 Everything Everything have a reputation for mixing the extremely weird and making it somehow fresh, exciting, and undeniably cool. Influences, as shown by a recent Spotify playlist the band did for Qthemusic, are incredibly vast.
Debut album Man Alive fused together tightly woven guitar patterns with intelligent lyrics and a vocal range shifting from the deep to a falsetto high in seconds. Math rock, post-punk, contemporary R&B, Gentle Giant, are all mentioned when trying to surmise such a sound. One thing is for certain, within this strangely innovative mixture, a well crafted art-pop chorus still takes priority.
This reputation for the unusual has never been more easy to see than when watching the new video to their upcoming single Photoshop Handsome, set for release on 17 January. Ever wanted to see frontman Jonathan Higgs with a pair of breasts to call his own, or an egg for a face, while doing a duet with a bear? Now is your chance, in a video which is as varied and expressive as is their sound.
Having been in the sound of 2010 music poll and deservedly enjoying a fantastic year, this new version of Photoshop Handsome is the catalyst set to spark the new year into action. With an extensive list of tour dates to undertake, the band will have ample opportunity to shift the pounds we all pile on at Christmas by bouncing around on stages from Manchester to Munich.
Words: Simon Butcher
Tour Dates
Feb 3 O2 Academy Glasgow
Feb 4 Manchester Academy
Feb 7 O2 Academy Newcastle
Feb 8 Rock City Nottingham,
Feb 9 O2 Academy Leeds
Feb 11 University of East Anglia Norwich,
Feb 12 O2 Academy Birmingham
Feb 13 Cardiff University Great Hall Cardiff,
Feb 15 02 Academy Bristol
Feb 16 O2 Academy Bournemouth
Feb 17 Brighton Dome Brighton
Feb 19 02 Academy Brixton London
Mar 15 Uebel & Gefaehrlich Hamburg
Mar 16 GEBAEUDE 9 Köln
Mar 17 Magnet Berlin,
Mar 19 Atomic Cafe München
Mar 20 Flex Vienna, AUT