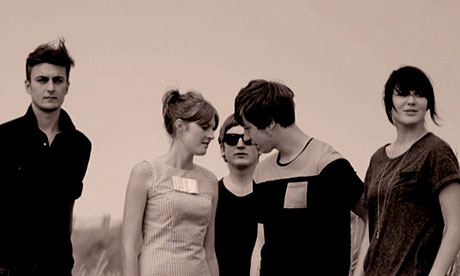 February will be a busy month for Deaf Club. On the 20th, they'll drop their double A-side debut single Mirrors and Sunday to eager UK audiences via their very own label White On White. Cut to three days later and they'll be kicking off their very first UK tour in our own Northern hotspot of Trof, Fallowfield, a trek that'll take them to some truly intimate venues all across the nation. There's no signs of slowing either. Judging by the buzz, 2012 looks like it'll be pretty exciting for this chill-rock five piece.
Having already made waves on the likes of Guardian Music and BBC Introducing, Deaf Club rode the wave of success from their critically well received debut EP Lull as far as it would take them. Before they knew it, they had a congregation of supporters eager to see what they'll do next. For a limited time, Deaf Club are offering a free download of the same EP that built all that buzz. Fans have until the release of their new single on February 20th to download Lull from their Bandcamp page. You'll find full details of Deaf Club's UK tour below, along with a chance to check out one half of their new single, Sunday.
Feb 23 – Trof Fallowfield, Manchester
Feb 24 – Bungalow & Bears, Sheffield
Feb 25 – Oakford Social Club, Reading
Mar 05 – Undertone Basement, Cardiff
Mar 06 – White Heat, Madame JoJo's, London
Mar 07 – Queen of Hoxton, London (w/ Dry the River)
Mar 09 – The Hope, Brighton
Words by Simon Bland.