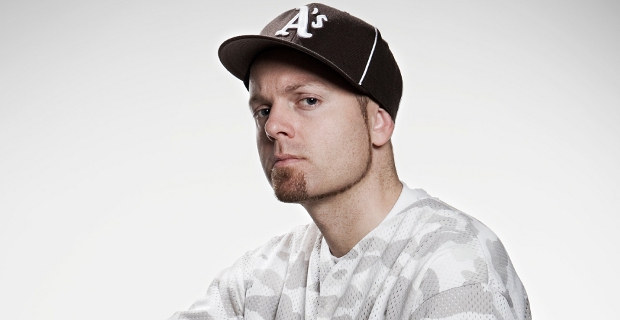 Influential turntable master DJ Shadow will play in Manchester on 9th November as part of The Warehouse Project's huge bill. Other acts he'll be sharing the stage with include Flying Lotus, Jamie XX, and Manchester's very own Illum Sphere.
DJ Shadow opened the final Store Street night at the previous venue, and will be part of one of the best line-ups at the new home in 2012. He's known for the pioneering 1996 album 'Endtroducing' – a record made entirely from samples.  In a 20-year career this record hasn't proved to be a one off success, and this year DJ Shadow – Josh Davis – will be releasing a 'Best Of' collection to prove that point.
'Reconstructed: The Best Of DJ Shadow', is to come out on a single, double, and double vinyl, while 'Reconstructed: The Complete DJ Shadow' will be available as a multi-disk box-set limited to 500 copies worldwide. Each 'Complete' will be signed by the man himself and include 8 discs, a 12" vinyl, and a booklet, featuring an essay by acclaimed music writer Dave Tompkins, and numerous photos, some exclusive, by long time Shadow collaborator B+. "It's never an easy task to sum up a career in one release," says Shadow, "but this box comes pretty close. This is the definitive, final document of the sound I'm most known for."
All the music across the four formats is drawn from Shadow's 20-year career…from the early pre-Mo Wax days, right up to the present and his most recent album, 'The Less You Know, The Better'.Perhaps most exciting to Shadow fans is the inclusion of two brand new tracks, including 'Listen', featuring legendary vocalist Terry Reid.
Words: Simon Butcher
"Be sure to 'Like' us on Facebook and Follow us on Twitter to keep up to date with all the latest Northern music news!"