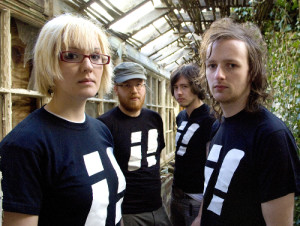 Alt-indie band and Leeds natives ¡Forward, Russia! reunite to help celebrate the 100th anniversary of one of the city's most beloved venues. The electro-punk four piece went on hiatus back in 2008 and, unfortunately for music fans, haven't made much of a noise since. However all that changed this morning when it was announced that they'll reform and join fellow Yorkshire-ites This Et All for a special show at Brudenell Social Club. Slated for November 30th, this gig will mark the 100th anniversary for the cosy and adored Northern venue and the first ¡Forward, Russia! gig in over five years.
Regularly topping 'Favourite UK Small Venue' polls, the Brudenell Social Club has seen a plethora of well known acts come through its doors, giving up-and-comers a stage one which to break-out and allowing seasoned bands and artists a chance to play one-off intimate shows. This century birthday bash will undoubtedly be very special indeed. Who knows? They might even get a phone call from the Queen.
Details of the show and ticket outlets can be found below along with the video for ¡Forward, Russia!'s Twelve to help get you in the mood.
¡Forward, Russia!
This Et Al
30th November 2013
Leeds Brudenell Social Club