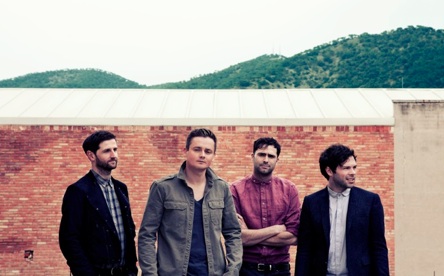 Keane have today revealed plans for an arena tour scheduled throughout November and December. The British indie rock quartet will play nine dates later this year kicking things off at Edinburghs' Usher Hall on November 19th. Their expansive trek will including a show at Manchester Arena on November 29th. The band released their fourth studio album Strangeland earlier this year and have performed at a selection of 2012's biggest outdoor events. Keane are also due to perform a headlining slot at V Festival later this month.
"We still find it amazing that we get to play those big gigs, and we never take it for granted. So we'll be making these shows very special and doing our utmost to give every single person there an unforgettable night," explains band member Tim Rice-Oxley. "Keane fans are the best in the world, always singing their hearts out, and we feel like our music is at its best when it is echoing around those big rooms and being sung by thousands of people – it's a magical thing for us to be a part of and we can't wait to experience it again."
UK & Ireland Arena Tour dates:   
November
Monday 19th – Edinburgh Usher Hall
Wednesday 21st  – Dublin Olympia
Thursday 22nd – Belfast Waterfront Hall
Wednesday 28th – Nottingham Arena
Thursday 29th – MEN Arena, Manchester
Friday 30th – London O2 Arena
December
Sunday 2nd – Brighton Centre
Monday 3rd – Winter Gardens, Margate
Tuesday 4th – Bournemouth BIC
Words by Simon Bland. (@SiTweetsToo)
Be sure to 'like' us on Facebook and follow us on Twitter to keep up to date on all the latest Northern music news!