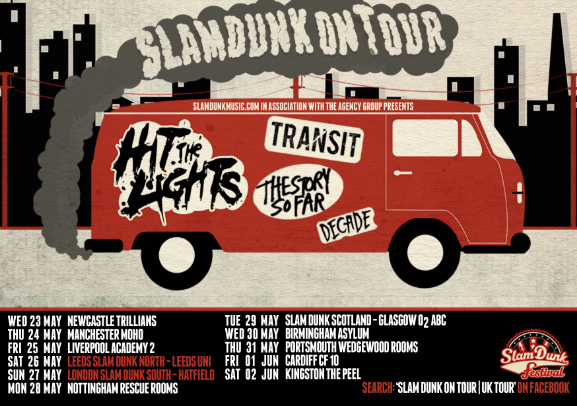 Every Northerner's favourite pop-punk festival has evolved. It was announced today that Slam Dunk will be hitting the road for a select run of dates in May and June to coincide with its larger-scale main event. All those who are unable to make it down to Leeds university this May for Slam Dunk North can relax, the event's organisers have cherry-picked a handful of acts to tour some of the UK's best venues.
Slam Dunk on Tour will feature already confirmed acts such as Hit the Lights, The Story So Far and Decade as well as a special appearance from Transit for both the tour and the festival itself.  These guys will play 11 dates around the country (including both festival stops) with shows scheduled for Moho in Manchester and Liverpool's Academy 2 among others.
Pop-punk mainstay Hit the Lights will headline the tour and promise to debut some new material to fans who come out to catch them on this tie-in trek. What's more, The Story So Far make a hotly tipped return to our side of the pond after their riotous UK debut supporting Man Overboard this January.
This is just the latest announcement from the pop-punk event that keeps on giving. Slam Dunk North looks set to be one of the most exciting events of the pre-festival season with genre legends Taking Back Sunday topping the bill joined by the likes of Motion City Soundtrack and Say Anything. This is undoubtably a must for alt-rock fans. Slam Dunk on Tour tickets are just £12 and can be bought here.  Full tour dates can be found below. For more info on Slam Dunk North head here.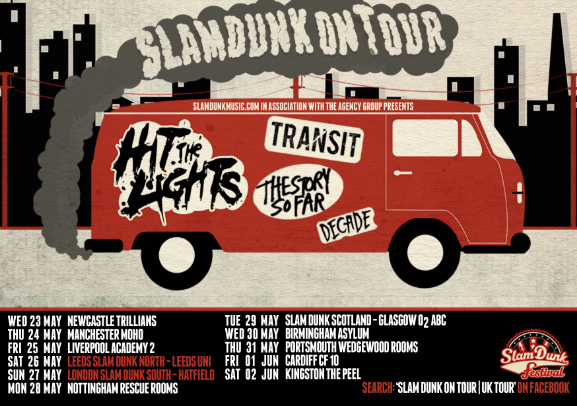 MAY
23 Newcastle Trillians
24 Manchester Moho
25 Liverpool Academy 2
26 Leeds University (Slam Dunk North)
27 Hatfield University (Slam Dunk South)
28 Nottingham Rescue Rooms
29 Glasgow King Tuts
30 Birmingham Asylum
31 Portsmouth Wedgewood Rooms
JUNE
01 Cardiff CF 10
02 Kingston Peel
Be sure to follow us on Twitter and 'Like' us on Facebook to keep up to date on all the latest Northern music news!
Words by Simon Bland.