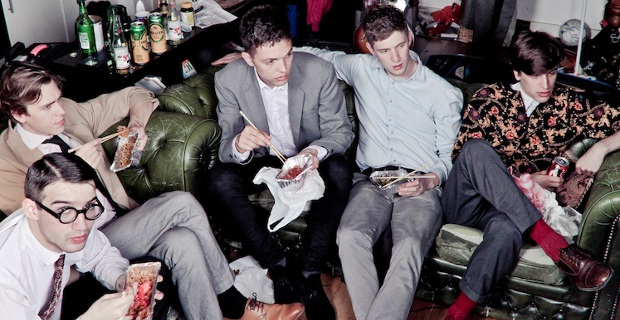 London indie-pop quintet Spector will play an instore gig in Manchester's HMV store on the day their debut album, Enjoy It While It Lasts, is released. At 6pm on August 13th the band will showcase tunes including their hit single Never Fade Away, for those in the know.
The band have previously played two headline tours this year which have come through Manchester. They sold out the Deaf Institute in February and Sound Control in May so undoubtedly you'll need to head down early to catch a glimpse of the boys before they're next spotted selling out a large venue.
The debut album comes out via Fiction/Luv Luv Luv records. We've given it a listen and can vouch for it being an indie-pop behemoth destined for mainstream success. Band member Fred Macpherson ruminates on the album's background:
"Pop music is the perfect medium for turning pain into entertainment. As this dawned on me over the last year, our album evolved into the most exhilarating outlet for the bi-products of romance, heartbreak, nostalgia and social monotony. It took five band members, six months and seven producers to make this record, and I've never taken anything more seriously in my whole life.
Life is short and happiness is fleeting. We search for it all our lives expecting that it will arrive and then everything will change. But if and when it does, it comes and goes. It's not forever: Nothing is. We need to savour every moment of love and pleasure. We need to enjoy it will it lasts".
Written by Simon Butcher
"Be sure to 'Like' us on Facebook and Follow us on Twitter to keep up to date with all the latest Northern music news!