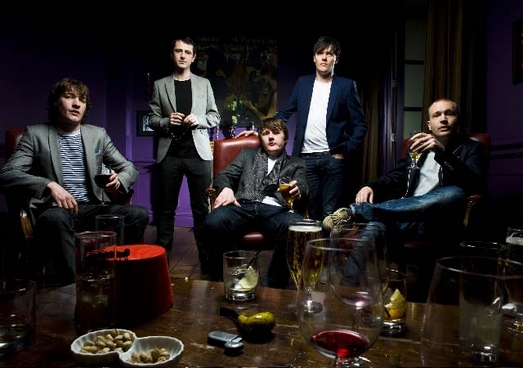 Birmingham's The Twang have announced a string of new tour dates, they'll be hitting up Manchester's Sound Control in October. It's no secret that weekends are for partying, so with that in mind The Twang have scheduled their upcoming tour around the best part of every week.
Frontman Phil Etheridge explains the reasoning behind this this fun tour decision: "Twang shows have always been more like a party than a gig.  The best gigs are always the weekend shows so we thought, 'lets just do weekends' – with the odd exception.  Well, Thursday's is the new Friday's after all!"
Having arrived on the scene a few years back with their indie-rock debut I love it When I feel Like This, this northern five piece made good on their reputation as the most discussed 'new' band of 2006.  What followed was 2009's Jewellery Quarter record, their recently released Guapa EP and a whole lot of tour dates.
With a new, yet untitled album in the bag, The Twang head back out on the road before their latest record hits shelves in January 2012.  Full details can be found below.
Tour dates.
Friday 23 September          Luton – Charlie Browns
Saturday 24 September       Bristol – Fleece
Wednesday 28 September   York – Duchess
Thursday 29 September      Glasgow – King Tuts
Friday 30 September          Dundee – Beat Generator Live!
Saturday 1 October            Dunfermline – Malloys
Wednesday 5 October         London – Electric Ballroom
Thursday 6 October            Birmingham – Rainbow Warehouse
Friday 7 October                Northampton – Roadmender
Saturday 8 October            Portsmouth – Wedgewood Rooms
Thursday 13 October           Newcastle – Riverside
Friday 14 October               Leeds – Cockpit
Saturday 15 October           Sheffield – Leadmill
Sunday 16 October             Liverpool – Masque
Thursday 20 October           Nottingham – Rescue Rooms
Friday 21 October               Stoke – Sugarmill
Saturday 22 October           Manchester Sound Control
Words by Simon Bland.