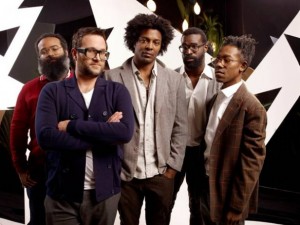 TV on the Radio have announced details of a two date UK tour.  The Brooklyn band, who are prepping the release of their hotly tipped new album 'Nine Types of Light' due for release April 11th, will play Manchester Academy 2 on June 27th and Glasgow 02 ABC the following night.
This news comes just weeks after bassist Gerard Smith was diagnosed with lung cancer, he is expected to sit out this brief overseas visit.   2008's 'Dear Science' was a breakout hit, receiving rave reviews and offering some memorable tracks, however the band's new record promises to take things back to basics.  "I think the songs on this album, to me, maybe sound simpler" explains frontman Tunde Adebimpe, "but it just might be that we have gotten better at what we do."
Tickets go on sale Friday 1st April at 9am, in the meantime though you can listen to their new single 'Will Do' below.